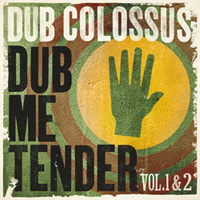 Dub Colossus will release Dub Me Tender Vol. 1 + 2 tomorrow, Monday, February 6th, 2012. 'Dub Me Tender' is a reworking of tracks from both Dub Colossus albums, plus four previously unreleased tracks – processed through the Dubullah blender.
Dub Colossus blends contemporary and traditional Ethiopian styles, jazz and dub reggae. With two successful albums to their name ('A Town Called Addis' and 'Addis Through The Looking Glass'), Dub Me Tender is a collection of remixes, by Dubulah, of selected tracks from these two albums, plus four new tracks.
Dub Colossus began as the vision of musician/producer Nick Page (aka Dubulah, founding member of Transglobal Underground and Syriana). The Ethiopian band members are female vocalists Tsedenia Gebremarkos, a fine, soulful performer and highly successful African pop star, and Sintayehu 'Mimi' Zenebe who runs a nightclub in Addis, extraordinary young pianist Samuel Yirga, veteran saxophonist and jazz exponent Feleke Hailu and Teremage Woretaw, a traditional folk singer, an azmari, an exponent of the one-stringed messenqo violin.
UK musicians who join Dub Colossus on their second album include the reggae singer Mykaell Riley (Steel Pulse), drummer Nick Van Gelder (Jamiroquai), the Horns of Negus brass section, bass work from Dr Das (Asian Dub Foundation), and double bass from Bernard O'Neill (Syriana).
Author:
World Music Central News Department
World music news from the editors at World Music Central