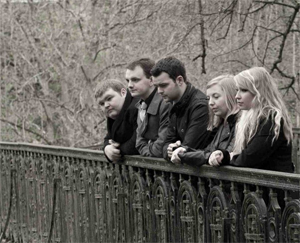 The winners of this year's Danny Kyle Open Stage, which is supported by the Evening Times, performed in the finale concert this evening (Sunday 5th February) at the Glasgow Royal Concert Hall, before being presented with their awards.
The level of talent on show at all concerts, which were held in the Exhibition Hall of the Glasgow Royal Concert Hall, was extremely high. The six winners of the Danny Kyle Open Stage 2012 are:
Glasgow based five piece band Barluath embrace a wide range of musical styles including Scots and Gaelic Song, Fiddle, Bagpipes, Whistles, Guitar, Mandolin, Bass, Clarinet and Piano. All five members are students at the Royal Conservatoire of Scotland.
Réalta are a three piece band based in Belfast. The trio perform intricate melodies and driving rhythms and their lively approach to traditional Irish music has allowed Réalta to become quite established in the Irish music scene.
Glasgow based singer-songwriter Rory Butler completed his debut album Naked Trees early last year. Due to his intricate and masterful guitar work Rory continues to enjoy growing recognition in the Scottish music scene.
Marit Fait & Rona Wilkie
Based in Newcastle Upon Tyne but hailing from Scandinavia and Scotland this duo have been making a big impression on the Danny Kyle audiences this festival. Rona Wilkie from Oban is also one of the finalists in the BBC Radio Scotland Young Traditional Musician of the Year competition.
This eight piece band from Edinburgh are a contemporary alternative blues band that 'combines original material with traditional standards and a fully realized pre-war blues fixation' (The List)
Singer-songwriter Ben Church from Wallsend, Tyne & Wear combines his percussive guitar playing with delicate vocal melodies to deliver memorable performances.
Every year at Celtic Connections the cream of new musical talent perform at Danny Kyle's Open Stage. A diverse panel of judges – from industry stalwarts to members of the general public – then have the unenviable task of picking just six winners from the seventy three acts who took part.
Author:
World Music Central News Department
World music news from the editors at World Music Central