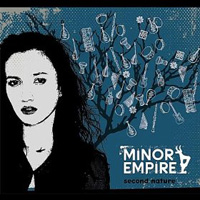 Minor Empire
Second Nature (World Trip Records, 2011)
Music fans looking to dip into a new sound should check out Minor Empire on their debut recording Second Nature out on the World Trip Records label. Flashing a polished, sophisticated sound, this Toronto-based group coaxes both Western and Turkish music into a delicious dance that is both fresh and stylishly hip. Headed up by guitarist, composer and producer Ozan Boz and vocalist Ozgu Ozman, Minor Empire rounds out its sound with electric guitarist Michael Occhipinti, bassist Chris Gartner, percussionist Debashis Sinha, oud player Ismail Hakki Fencioglu, kanun player Didem Basar, clarinetist Selim Sesler and saz player Sidar Demirer.
While insisting that Minor Empire's sound isn't exactly a fusion but more of a "collision and confluence" of Western and Turkish music, Mr. Boz explains, "I see them as coexisting together while keeping their original shapes."
Deeply exotic, Second Nature moves effortlessly through 14 evocative tracks fashioned out of ripe Turkish hues and moody Western atmospheric landscapes. Opening with the percussion heavy "Yuksek Yuksek Tepeler" tinged with guitar and kanun against Ms. Ozman's vocals makes for an impressive start. Moving through to the open sky feel of guitar of the short "Ozan's Psyche," Minor Empire takes the listener on a darkly lush and dreamy "other space" journey on "Divane Asik Gibi." Second Nature just gets better and better with tracks like "Bulbulum Altin Kafeste," "Zuluf Dokulmus Yuze" and "Keklik Daglarda Cagilar." Closing track "Firat Turkusu" is simply stunning.
Bold, expertly worked and voluptuous, Second Nature will surely have world music fans clamoring for the next installment from Minor Empire.
Listen to samples and buy the MP3s:
CD available from http://www.cdbaby.com/cd/minorempire
Author:
TJ Nelson
TJ Nelson is a regular CD reviewer and editor at World Music Central. She is also a fiction writer. Check out her latest book, Chasing Athena's Shadow.
Set in Pineboro, North Carolina, Chasing Athena's Shadow follows the adventures of Grace, an adult literacy teacher, as she seeks to solve a long forgotten family mystery. Her charmingly dysfunctional family is of little help in her quest. Along with her best friends, an attractive Mexican teacher and an amiable gay chef, Grace must find the one fading memory that holds the key to why Grace's great-grandmother, Athena, shot her husband on the courthouse steps in 1931.
Traversing the line between the Old South and New South, Grace will have to dig into the past to uncover Athena's true crime.