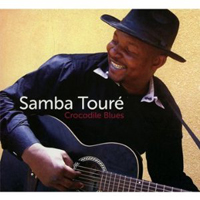 Samba Toure
Crocodile Blues (World Music Network/Riverboat, 2011)
Anybody who has read any number of my reviews knows well my addiction to Mali's desert blues sound, so it should come as no surprise that I would fall for Samba Toure's Crocodile Blues, out on the World Music Network label. Long lanky guitar licks edged with plumy African rhythms and tangy vocals lighten one's day and Crocodile Blues does indeed shine down a whole lot of bright on the day. Fans will know Mr. Toure from his previous recording Songhai Blues: Homage to Ali Farka Toure.
Cruising on a sound ripe with congas, calabash, ngoni, tamani, bass and Mr. Toure's guitar lines, Crocodile Blues dives deep into that signature desert blues sound with a delightful vengeance. Of course, if you've got Ali Farka Toure's conga player Oumar Toure, Ibrahima 'Bouri' Sere on calabash, Baba Simaga on bass and percussion and Djime Sissoko on ngoni and tamani backing the likes of Samba Toure's excellent guitar work, well, you've got some fine sounds.
writing most of the tracks or arranging traditional songs for Crocodile Blues, Mr. Toure takes the listener through such finely honed tracks like the CD's opening "Alabina," the slickly bluesy "Dani Dou" and the brightly worked "Khadagole." The instrumental "White Crocodile Blues" the intricately lovely "Jingarr Hinne" are real gems. Of course there's also "Moussoa with guest vocalist Oumou Sangare, "Berei" and "Idje Tchina, a sweetly worked tribute to mothers, which make this recording utterly delightful.
Crocodile Blues is pure pleasure.
Author:
TJ Nelson
TJ Nelson is a regular CD reviewer and editor at World Music Central. She is also a fiction writer. Check out her latest book, Chasing Athena's Shadow.
Set in Pineboro, North Carolina, Chasing Athena's Shadow follows the adventures of Grace, an adult literacy teacher, as she seeks to solve a long forgotten family mystery. Her charmingly dysfunctional family is of little help in her quest. Along with her best friends, an attractive Mexican teacher and an amiable gay chef, Grace must find the one fading memory that holds the key to why Grace's great-grandmother, Athena, shot her husband on the courthouse steps in 1931.
Traversing the line between the Old South and New South, Grace will have to dig into the past to uncover Athena's true crime.