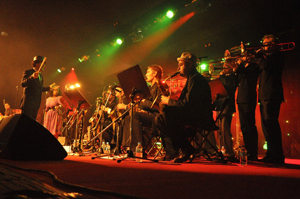 It started with a half-baked plan to set some kind of world record, for the most horn players performing the skank in a ska song. Eight years down the track, the Melbourne Ska Orchestra is a serious musical entity with ambitions to tour the world.
Expanding on the band's unorthodox genesis, the MSO's ad hoc conductor and leader, Nicky Bomba, go-to man for the Melbourne reggae scene, explains: "Myself and Mohair Slim, a local radio announcer and amazing authority on ska, reggae, bluebeat, soul etc, perpetuated the madness by sending out feelers for interested participants and the reaction was stupid, to put it mildly."
From that nebulous beginning, a 30-piece extravaganza was born. "Rehearsals ensued with much excitement and we booked Melbourne's Gershwin Room for our debut gig, celebrating the 40th anniversary of ska." The gig was a complete sell-out, with hundreds turned away. So Bomba decided to pursue it further, although he concedes that he was blissfully unaware of the logistical headache posed by a band of that size. "At first it was just a great reason to get together and have fun, but it has developed into a great festival band. I don't think we ever bothered to find out if we set a world record either!"
There's no doubt that the MSO is on a trajectory upwards. "With our last couple of performances, we've really raised the bar with our playing and connection with the audience. There's a positive feeling that's all about being tight with songs and arrangements but knowing that at any moment we can fly off on a tangent to raise the vibrations. The next obvious step is to introduce more original compositions and start defining our own sound with respect to the genre."
Originals are hitherto confined to a couple of Bomba's tunes, though moves are afoot to expand. "I've just started the composition process for the Orchestra. The plan is to have numerous jamming sessions, as there is amazing talent within. We have members from the jazz and ska family, teachers, musical directors, circus performers, fruit shop owners, IT experts and quantum physicists … a real mixed bag!"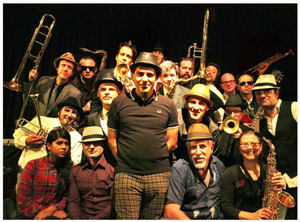 The MSO's repertoire currently contains a range of covers from the definitive eras of ska. These include from the 50s & 60s songs like 'My Boy Lollipop', 'Simmer Down', 'Monkey Man', 'Confucious', 'Perfidia' and other Skatalite tunes, including the James Bond and Mission Impossible theme songs. From the 80s' British Two Tone period they render classics such as 'Message to Rudy', 'Night Boat To Cairo' and 'One Step Beyond'. Some Latin tinged hybrids from the new era have been added, along with the band's version of Woody Herman's 'Golden Wedding', in which Bomba gets to do a Gene Krupa style drum solo.
The MSO has also experimented with Ethiopian big band sounds a la Ethiopiques. "We try and do all the songs justice with their essence, but there might be a deviation for the benefit of the night," Bomba advises. "We do learn the form properly at the inception, though, and some songs are best left untouched."
Recording, releases and tours are definitely on the agenda. "The only real drawback I can see is the financial aspect of transport/accommodation etc," says Bomba. "We would most likely apply for grants to do any major touring. We'd love to take this orchestra on a world tour. The [band's] appeal is quite universal and covers all ages. It's truly a sweet thing to see the Orchestra in full flight having fun and blasting out wicked tunes and rhythms. I've played at lots of festivals with the John Butler Trio where I think the Orchestra would tear it up big time. But the actual implementation of a world tour would make a lot more sense once we have recorded our definitive debut album."
Although the MSO is currently sitting at 30 members, Bomba's line-up escalated for their showcase on the opening night of the 2011 Australasian World Music Expo in November in the band's hometown. "It's actually hard work deciding who gets match time as we have so many great musicians who have joined the family. Essentially we have drums, percussion, organ, piano, bass, guitars and also saxophones, tenor saxes and baritones, trumpets, trombones, clarinets, flugelhorns, vocalists, a loose conductor and a sprinkle of uncertainty. At any one point, there are close to 50 drivers available to operate them."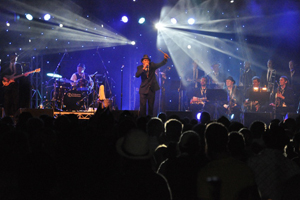 The Orchestra has a history of working with musicians from the classic ska era, having financed special guest performances over the years, and the Expo was no exception. "The first artist we flew out was Owen Gray, one of the pioneers of Jamaican ska. Then Carlos Malcolm, a famous Jamaican horn arranger, and more recently Stranger Cole, another true pioneer of the Skatalite brigade. Stranger was doing some other work in the country during AWME and his acceptance to perform with us again was a real honor."
'Bangarang' and 'Run Joe' were on the playlist for the soulful Jamaican singer, who has worked with such legendary producers as Lee 'Scratch' Perry, Prince Buster, Arthur 'Duke' Reid, Clement 'Coxsone' Dodd and Bunny 'Striker' Lee.
Nicky Bomba has also rubbed shoulders with reggae nobility, having supported the likes of Toots & the Maytals, The Wailers, Third World, the Skatalites, Big Youth and Ziggy Marley over the years.
• The above interview first appeared in Rhythms, Australia's only dedicated roots music magazine, for which the author is World/Folk correspondent.
Author:
Tony Hillier
Tony Hillier is based in Cairns in far north Queensland, from where he has been actively involved in all areas of the music industry in Australia for the past 25 years, primarily as a journalist, writing for national publications such as the Weekend Australian and Rhythms magazine (for which he is World Music & Folk correspondent), and performing locally, nationally and internationally with the bands Kamerunga and Snake Gully. He has also presented and produced World Music and Folk music programs for ABC Far North, Port Douglas Radio and 4CCR-FM, netting a CBAA Best Specialist Music Program Award with the last-named for a documentary on flamenco. Before coming to Australia, he was a racing journalist of some repute in the UK, where he wrote a column for the London Evening Standard under the nom-de-plume of Ajax.