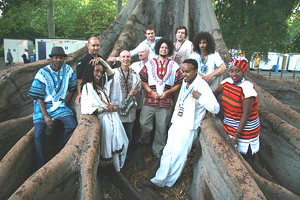 Ethiopian flavored music has certainly taken root down under. The Black Jesus Experience, one of a handful of excellent Australian bands exhibiting the influence, boasts unimpeachable bona fides, having forged an association with the founding father of so-called Ethiojazz, Mulatu Astatke. Not only that, but by adding other elements, primarily hip hop, the Melbourne collective has arguably established a vibrant new variation on the Ethiopian experience.
The connection with multi-instrumentalist, composer and arranger Astatke, who interchanges between piano, organ, vibraphone and percussion, was made during The Black Jesus Experience's first visit to Ethiopia in 2009.
Band leader and alto saxophonist Peter Harper takes up the story. "We met Mulatu after playing a gig in his nephew's club. He told me he had heard of us and would like us to accompany him for his upcoming tour to Australia for the Melbourne International Jazz Festival." Their performance together at that prestigious event was a resounding success, garnering a sell out, two extra shows and rave reviews. Harper is unstinting in his praise of the Addis Ababa-based legend: "He is a wonderful man, very professional, very friendly and easy going with a profound insight into life and art. He loves his country and is immensely proud of his Ethiopian heritage."
Harper performed some of Astatke's songs when the band renewed its association with the great man for a showcase concert at the 2011 Australasian World Music Expo in Melbourne in November. "Black Jesus Experience did a couple of months of regular rehearsals and performances playing Mulatu's music before the 2010 Melbourne International Jazz Festival gig so that we could be very confident and do the music justice. Before AWME, we only a small amount of time, but as we performed with Mulatu in the UK at the Big Chill festival in August of this year we were still in touch with the music."
The Black Jesus Experience performed a stand-out set on its own as part of last year's Expo, with the band's dynamic Ethiopia-born lead singer Enushu Taye turning heads. Taye, who began singing in public as a child, migrated to Australia 1996, bringing to Melbourne her hauntingly beautiful compositions inspired by a remarkable life story and the rich vocal traditions of her native land.
Taye has toured Ethiopia twice in the past three years with the band. 2009 saw them perform in Addis Ababa, Bahardar and Gonder, playing a variety of clubs and festivals. Earlier this year they returned to perform in Addis Ababa clubs and at the Australian Ambassador's Residence in a special concert for the African Union Diplomats and Ambassadors to Ethiopia. "This was a highlight, and an important step in our quest to tour the rest of Africa," Harper reports.
The Black Jesus Experience (BJX for short) was born four years ago when Harper tracked down other local musicians to work with his long-time associates Enushu Taye and trumpeter Ian Dixon. "We wanted to create a musical vehicle which would be fun and present a challenge — one which would make people want to listen and dance," says the saxophonist.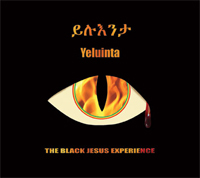 Needless to say, the band has "more than fulfilled" expectations "on all levels". Harper, a jazzman who also co-founded the Australian Art Orchestra, finds Ethiopian music fulfilling to play. "It's very sophisticated. The aspects that interest me are rhythm, phrasing, embellishments, rhythmic interplay of lead and chorus parts, language and form. Ethiojazz is easier to access than traditional Ethiopian music as it is presented over a more familiar rhythm, usually some form of funk or Latin inspired groove. I particularly like traditional Ethiopian music. There are many tribes each with their own style of music."
By mashing Ethiopian music with jazz, reggae, afrobeat, funk and hip hop (the rapping comes courtesy of MC Liam Monkouse, who's known by his peers as the "lyrical miracle"), The Black Jesus Experience have evolved a uniquely Australian take on the genre.
The various components seem to fit together extremely well. "The musical balance is an even blend of the musical styles represented by the musicians in the band," says Harper, a powerful saxophonist, whose searing sound manifests his long-time dedication to the practice of overtones. "The secret is to try and feature all styles evenly. For example, it would be too easy for me to dominate the music with too much jazzy influence, and that would ultimately kill the flavor. Likewise too much hip hop or traditional Ethiopian music would present something which we are not. Our strength is the blend. We can play 6/8 with a rap over the top. It's about being flexible and able to play more than one style."
With members of Moroccan, Zimbabwean, Maori and Ethiopian heritage in the band, there's multiculturalism in The Black Jesus Experience mix. "It's a pretty good bunch of people," summarizes Peter Harper.
• The above interview first appeared in Rhythms, Australia's only dedicated roots music magazine, for which the author is World/Folk correspondent.
Author:
Tony Hillier
Tony Hillier is based in Cairns in far north Queensland, from where he has been actively involved in all areas of the music industry in Australia for the past 25 years, primarily as a journalist, writing for national publications such as the Weekend Australian and Rhythms magazine (for which he is World Music & Folk correspondent), and performing locally, nationally and internationally with the bands Kamerunga and Snake Gully. He has also presented and produced World Music and Folk music programs for ABC Far North, Port Douglas Radio and 4CCR-FM, netting a CBAA Best Specialist Music Program Award with the last-named for a documentary on flamenco. Before coming to Australia, he was a racing journalist of some repute in the UK, where he wrote a column for the London Evening Standard under the nom-de-plume of Ajax.