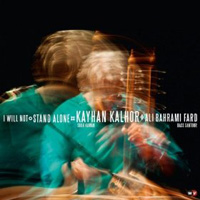 Kayhan Kalhor
I Will Not Stand Alone (World Village, 2002)
Kayhan Kalhor's I Will Not Stand Alone, set for release on February 14, 2012 on the World Village label, draws such exquisite emotional musical lines on this achingly poignant new recording that it is impossible not to simply fall of the edge and into the music. Fan will know this Tehran-born kamancheh player and composer as one of the members of Yo-Yo Ma's Silk Road Project, composer for singers Mohammad Reza Shajarian and Shahram Nazeri, as well as his recordings The Wind, Silent City and In the Mirror of the Sky.
Debuting a new instrument on I Will Not Stand Alone called the shah Kaman and offering listeners a chance to hear the bass santour, Mr. Kalhor opens the CD with the lushly elegant and plaintive "Between the Heavens and Me." The dizzyingly dazzling kamancheh work on "Pluck a Star from the Sky" is intense and breath-taking. Dipping into a musical vibrancy made of equal parts of sorrow and darkness, Mr. Kalhor pulls out all the emotional stops with wildly exotic tracks like "Dancing Under the Walnut Tree" and the deeply alluring title track "I Will Not Stand Alone."
Fans looking for a live Kayhan Kalhor experience might want to check out the concert series with Brooklyn Rider this spring or tour date in San Francisco, New York and Milwaukee.

I Will Not Stand Alone is exquisitely worked with an enigmatic powerful musical voice that Persian music fans are sure to fall victim to with just one listen.
Digital version (click on CD option if you want the CD)
Author:
TJ Nelson
TJ Nelson is a regular CD reviewer and editor at World Music Central. She is also a fiction writer. Check out her latest book, Chasing Athena's Shadow.
Set in Pineboro, North Carolina, Chasing Athena's Shadow follows the adventures of Grace, an adult literacy teacher, as she seeks to solve a long forgotten family mystery. Her charmingly dysfunctional family is of little help in her quest. Along with her best friends, an attractive Mexican teacher and an amiable gay chef, Grace must find the one fading memory that holds the key to why Grace's great-grandmother, Athena, shot her husband on the courthouse steps in 1931.
Traversing the line between the Old South and New South, Grace will have to dig into the past to uncover Athena's true crime.