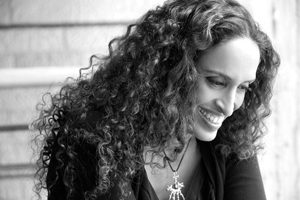 Noa will be on tour in Spain and France during February and March of 2012. She will be presenting four exclusive concerts with her quartet, with music from the best of her musical career.
Achinoam Nini, better known internationally as Noa, is one of Israel's leading international concert and recording artists. Born in Tel Aviv in 1969, Noa lived in New York City from age 2 until her return to Israel alone at the age of 17. Her family is originally from Yemen. Noa studied music at the Rimon School where she met her long-time partner and collaborator Gil Dor.
Noa's main musical influences come from singer-songwriters such as Paul Simon, Joni Mitchell and Leonard Cohen. These musical and lyrical sensibilities, combined with Noa's Yemenite roots and Gil Dor's strong background in jazz, classical and rock, have created Noa and Gil's unique sound, manifested in hundreds of songs written and performed together. Noa plays percussion, guitar and piano.
Over the span of their career together, Gil and Noa have written and produced 4 hugely successful Israeli albums: "Achinoam Nini and Gil Dor Live", "Achinoam Nini and Gil Dor" (also known as "Rachel and Leah"), and "Achinoam Nini". Their six international albums are, "Noa" and "Calling" for Geffen records, "Blue Touches Blue" for Mercury records , "Now", "Genes and Jeans" (produced by Gil Dor) and "There must be another way" with Mira Awad, for Universal Music.
In addition, Noa has recorded a live album with the Israel Philharmonic Orchestra, and a live CD and DVD with The Solis String Quartet. Their last release in Israel is a collection of Neapolitan songs translated into Hebrew, and performed together with the Solis string quartet, named Napoli-Tel Aviv.
Noa was the first Israeli artist formally invited to perform in Morocco. In 1994 Noa performed her version of "Ave Maria" for a live audience of 100,000 and a TV audience of millions at the culmination event of the "Year of the Family" at the Vatican, witnessed by Pope John Paul II.
Noa and Gil have collaborated frequently with Arab and Palestinian artists from around the world, including Khaled from Algeria, Nabil Salameh from Lebanon, Handallah from Nablus, Rim Banna from Nazareth, Amal Murkus from Kfar Yasif, and Mira Awad from Kfar Raameh. These collaborations enable the duo to express, musically, their belief in the power of communication and dialogue as a means of promoting peace and understanding.
In 2009, Noa together with Palestinian singer songwriter Mira Awad, represented Israel in the Eurovision Song Contest.
Tour dates:
Febrary 28 – Sevilla – Teatro Lope de Vega 20:30.
March 1 – Bordeauxs (France) Le Rocher de Palmer 20.30
March 2 – Pamplona – Teatro Gayarre 20:00
March 3 – Valladolid – Cúpula del Milenio
Author:
World Music Central News Department
World music news from the editors at World Music Central