Hugh Masekela – Jabulani (Razor & Tie / Listen 2, 2012)
Ladysmith Black Mambazo & Friends (Razor & Tie / Listen 2, 2011)
While one can hardly overstate what trumpeter/singer/composer Hugh Masekela and vocal group Ladysmith Black Mambazo have done to bring South African music to the world, both have at times been accused of diluting their African roots for the sake of mainstream success. Nonetheless, both have retained what could be called a signature sound, instantly recognizable and recognizably South African whether suitable for adult contemporary radio or teamed with a Western pop star.
Masekela's impeccable horn playing and meaty vocals are as strong as ever on his latest, and the patented blend of African rhythms, jazz and occasional middle-of-the-road sweetening that's been serving him well for decades is likewise intact. The theme of Jabulani is the wedding music that first caught Masekela's ear when he was a kid, and we're not talking about polite stuff that accompanies rehearsed marches down aisles. Nope, this is South African wedding music, and as such it's as celebratory as it is full of practical advice about what makes a marriage work. "Fiela," for example, cooks its way through a lesson on the importance of keeping a tidy home.
Other songs are based on traditional pieces that tell musical tales of how marriage changes the families involved in unexpected ways ("Mfana," "Uyeyeni") or poke good fun at such spousal shortcomings as the inability to dance ("Sossie"). Masekela sings in English as well as native tongues and further enlivens the album by surrounding himself with a crackling good band and several support vocalists, including a particularly strong Tsepo Thsola chiming in with some necessary female perspectives. Alternately rousing and smooth, Jabulani is a high quality work from a legendary artist who was one of the first world music stars and still sounds timeless.
It was through their participation on Paul Simon's Graceland album and tour that Ladysmith Black Mambazo first got worldwide exposure, but I can rightly (and rather smugly) claim to have known about their captivating acapella vocal style prior to that. What I didn't know is how enduringly popular they would become, a fact celebrated with the release of the double CD set Ladysmith Black Mambazo & Friends.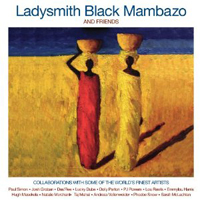 The still-spine-tingling Graceland tracks Ladysmith graced- "Homeless" and "Diamonds on the Soles of Her Shoes" – are included in original and reprised form alongside Ladysmith rubbing voices with everyone from Taj Mahal to Andreas Vollenweider. There are 30 songs total, and, to be honest, some (such as their almost total de-clawing of "Knockin' on Heaven's Door" in the company of Dolly Parton) are as anodyne as the TV spot for Life Savers that Ladysmith did a few years ago. What makes the album worth getting and keeping are the majority of selections showcasing Ladysmith's astounding versatility and adaptability, and the symbiosis that often inspired them to sound a bit more pop and their collaborators a bit more African.
The group's gospel roots bloom beautifully in tandem with Emmylou Harris on "Amazing Grace/Nearer My God to Thee," Betty Griffin on "Oh Happy Day" and Phoebe Snow on "People Get Ready." For a taste of more earthly concerns, check Ladysmith and Lou Rawls giving classic soul treatment to "Chain Gang," the township/hip hop meld of "Abezizwe (Uniting Nations Together)" mixed by D'Influence or a version of Billy Joel's "River of Dreams" bolstered by Bill Champlin.
Not overlooking the country from which Ladysmith hails, the collection includes a fair number of songs in Zulu including the mosaic-like "Shosholoza" with additional vocals by Lucky Dube, Hugh Masekela and Vusi Mahlasela. There's more, including electronica experiments and reconfigured songs from Ladysmith's own sizable catalogue, but all you really need to know is that what we have here is an impressively varied and musically satisfying sampling of one of the greatest vocal ensembles ever.
Author:
Tom Orr
Tom Orr is a California-based writer whose talent and mental stability are of an equally questionable nature. His hobbies include ignoring trends, striking dramatic poses in front of his ever-tolerant wife and watching helplessly as his kids surpass him in all desirable traits.