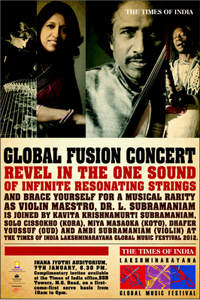 The world music circuit in India for 2012 kicked off in fine style with the Lakshminarayana Global Music Festival, starting off in Bangalore and then moving on to Chennai, Ahmedabad, Mumbai, Pune, Trivandrum and Kollam through the month of January. The Bangalore concert on a Saturday evening was also followed by a workshop the following Sunday morning, a real treat!
As part of a 20-year tradition, violin maestro L. Subramaniam brought musicians from around the world for a treat of world music dialogues and jam. The annual concert series is a tribute to his late father, the legendary violinist V. Lakshminarayana. I have had the joy of attending over five of these festivals, and this one was particularly outstanding.
The line-up this year included world musician stars Solo Cissokho from Senegal (kora), Miya Masaokha from Japan (koto), and Dhafer Youssef from Tunisia (oud). L. Subramaniam's entire family consists of musicians, who joined him on stage: wife Kavita Krishnamurthi Subramaniam on classical vocals, daughter Bindu on fusion vocals, son Narayana on classical vocals, and youngest son Ambi on violin.
The festival in previous years has featured a galaxy of renowned artists such as Yehudi Menuhin, M.S. Subbulakshmi, Ustad Bismillah Khan, Al Jarreau, Steven Seagal, Stanley Clarke, George Duke and Jean Luc Ponty. Over the years the festival has straddled a number of genres: Carnatic, Hindustani, jazz, rock, Western classical, Indian folk, ghazals, and Bollywood.
The 2012 show is special, being the 20th anniversary of the festival and the centenary year for L. Subramaniam's father. A special tribute was also paid to the late great mridangist Palghat Mani Iyer, a frequent collaborator with L. Subramaniam.
Some of my favorite L. Subramaniam albums include "Conversations," "Global Fusion" and "Duet with Ali Akbar Khan," as well as his opening track for the Mira Nair movie "Salaam Bombay." The DVDs and CDs from the 2012 concert series should make for fine listening as well, but that's getting ahead of the story a bit!
The 2012 Concert Series
The room and outside lobby area for the Bangalore concert on January 7 were packed with over 2,000 fans, and the show was broadcast live for the first time as well, on Sankara TV.
The program was anchored by the youthful Bindu Subramaniam, who also joined in vocals on some of the tracks and performed one of her own compositions. She joked often with the audience, asking them to recall the names of the dozen-plus musicians on stage. She also invited the audience to suggest a name for one of the group's untitled new compositions!
The evening performances straddled India, Japan, Senegal and Tunisia, with over a dozen solo and group pieces. The international solo performances began with Miya Masaoka on koto, followed by Solo Cissokho on kora and vocals. Dressed in kurta and greeting the audience with a 'Namaskar,' Solo gracefully won the Indian audience over! Dhafer Youssef's astonishing vocal range and oud riffs also drew loud applause.
The full band then appeared on stage, with a terrific Carnatic percussion section: V.V. Ramana Murthy on mridangam, G. Satya Sai on morsing, T. Radhakrishnan on ghatam, and B. K. Chandramouli on kanjira (it was also his birthday that evening!). The Western instruments featured Bangalore musicians Preetam Koilpillai on piano, Alwyn Fernandes on bass, Rudy David on electric guitar and Deva on drumkit.
L. Subramaniam and his son Ambi led with high-energy violin duets, backed by Kavita Krishnamurthi on vocals. The pieces were artfully composed by L. Subramaniam, giving enough space for all musicians to showcase their prowess, though the audience wished for extra time for more solos. Some of the outstanding moments included solid support by V.V. Ramana Murthy on mridangam for the sections by Preetam Koilpillai on piano and Solo Cissokho on kora, as well as a Persian ghazal featuring lyrical and poetic couplets.
"We are now moving from the mountains of Japan, forests of Senegal, and deserts of Tunisia to the monsoons and plains of India," said Subramaniam. His mastery of the electric-acoustic violin from slow moody stretches to high-octane crescendos shone through, blending Carnatic and Western sound.
The coordination and synergy between the musicians was flawless, revealing years of playing together in India by L.Subramaniam and the Indian musicians, and the collaborations between L. Subramaniam and the international artists during festivals in countries like Norway. His entire family of musicians shared an easy rapport with the other artistes.
It is when you are performing with musicians from around the world that you learn how much Indian music is contributing to world music, according to Subramaniam. "Carnatic music from south India is one of the oldest and well-developed musical systems in the world. Global collaborations help you to seek and pursue new directions in your music," he said in remarks to the press. (A good book for interested readers is "Bhairavi – The Global Impact of Indian Music," by Peter Lavezzoli)
World Music Workshop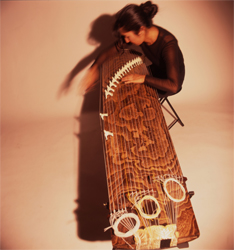 The next morning, the musicians gathered again for a workshop for a smaller cosier audience, thanks to generous support from the Ista Hotel. With natural lighting in a tree-top level room offering panoramic views of Bangalore, the musicians explained their instruments and took questions from a curious and excited audience.
Miya Masaoka showed how moving the bridges on the koto led to different scales, but cautioned that moving them too often made it difficult for the musician to remember their positioning. She also showed some visual effects with sweeping plucking movements of the hand. Tuning the instrument can be complicated, since the strings are of varying thickness and length. Gagaku from Japan is the oldest orchestral music in the world, said Miya.
Solo Cissokho had the audience on the edges of their seats as he showed how to build layers of sound on the kora (in 'paragraphs,' as he was taught by his father), ending with vocal improvisation in the Mandinga language. The griot community had an important role to play as messengers between kings and citizens, and were also musical healers and activists.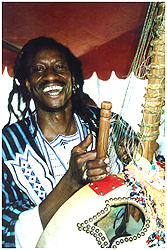 "I built this kora myself," said Solo. "We have to learn 150 songs to pass the test and become accepted as musicians," he explained. All this has been taught in oral manner for centuries. "I don't know how to read written music," Solo confessed! The Cissokho family is famous for being musicians, as well as the Diabate community.
I asked him how well his music fuses with other forms. "It fuses easily with jazz and blues. After all, the roots of blues and jazz is in Africa," Solo said. The West African music also lends itself very well to dance, as with much of African music.
The Indian percussionists then took the stage one by one. G. Satya Sai mesmerized the audience with his demonstration of circular breathing and percussive chanting while playing the moorsing. At one point a dozen children ran up and gathered around him, finding it hard to believe how much sound could be generated by a mouth harp using the mouth itself as a sound box! But one can easily cut one's mouth and lips if one is not careful, cautioned Satya Sai, which probably explains why the instrument is not so popular among youth.
There are entire villages in South India where the entire community is involved in making the ghatam, according to T. Radhakrishnan. He showed how different squatting positions and leg movements can vary the sound and pitch of the ghatam. V.V. Ramanamurthy explained how mridangam had been taught in his family for five generations.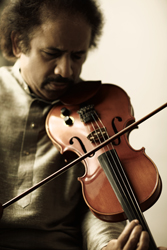 L. Subramaniam also joined in the discussion, sharing insights into the traditions of instrument making as well as humourous anecdotes from his interactions with performers. "I once saw a ghatam player with such a big stomach that I actually thought he had a ghatam under his shirt," he joked. Other ghatam players would eat a lot of food so that when the ghatam was placed on their belly it would sound unique and different from other players' sounds!
Some ghatam players would like to throw their ghatam in the air during performances, but crafty mridangam players would not create big enough gaps for them to indulge in such show, he said. Most ghatams are made from clay, but some also used 'non-vegetarian ingredients' like yolk, he joked.
L. Subramaniam ended the workshop on a fitting note, by saying that ultimately Carnatic music is about spirituality. "You cannot separate spirituality from Carnatic music. It is based on and evokes feeling for the Supreme," he said.
"The mark of good musicians is not how much they know, but what and how they feel, how they bring life to notes, and bring in the Divine Breath," he concluded.
It would be terrific to join the musicians on their roadshow across India for the rest of the month; the next line-up of this festival for 2013 is also eagerly awaited!
______________________________________________________________________________________________________________
Artist Profiles
L. Subramaniam has produced, performed, collaborated, conducted and released over 200 recordings. Since the early 70s, he has performed with artists like Yehudi Menuhin, Stephane Grappelli, Jean-Pierre Rampal, Ruggiero Ricci, Herbie Hancock, Stanley Clarke, George Duke, Jean Luc Ponty, Larry Coryell, Tony Williams, and Billy Cobham. He has composed concertos as well as fusion pieces, blending full symphony, choir, Indian vocals and percussion. In 2007, he founded the Subramaniam Academy of Performing Arts (SAPA) in Bangalore. The violin was brought into the Indian musical tradition from the West in the early 19th century, and L. Subramaniam's father L. Lakshminarayana is credited with elevating it to a solo instrument in South Indian classical music.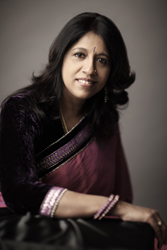 Kavita Krishnamurthi spans classical, ghazals, and Bollywood music, and has collaborated with directors like Naushad, Khayyam, OP Nayyar, Lakshmikant-Pyarelal, R.D. Burman, Bappi Lahiri, A.R. Rahman, Anu Malik, and Shankar-Ehsan-Loy. She was the main featured soloist in the "Global Fusion" album (Warner label) featuring musicians from all the five continents – it was during this album's production that she met and eventually married violin maestro L. Subramaniam.
Ambi Subramaniam, all of 20 years old, already shows the marks of a rising star, and has tremendous talent along with a charismatic stage presence. He plays Western and Indian violin with equal ease. His duets with his father and guru L. Subramaniam are outstanding (they have a Web site: http://www.indianviolin.com).
Miya Masaoka – musician, composer, sound artist – has created works for koto and written scores for ensembles, chamber orchestras and mixed choirs. In her pieces she has even investigated the sound and movement of insects, as well as the physiological response of plants, the human brain and her own body. Of Japanese origin, she is now based in New York city.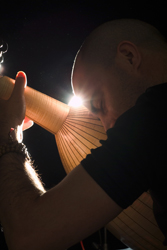 Solo Cissokho, a kora player and vocalist based in Norway, is from a Senegal griot family and winner of the BBC World Music Awards. He has played with Youssou N'Dour and Ali Farka Touré. He sings in Mandinga, and began playing kora from the age of seven. He has played with Scandinavian folk musicians and also won the Nordic Council's Music Prize. His group Cissokho System's recent release is the album Kaïra.
Dhafer Youssef is a Tunisian oud player and vocalist, who later moved to Vienna and Paris. His early collaborators include viola player Tony Burger, accordionist Otto Lechner, and tabla player Jatinder Thakur. His first album is called Malak and his latest album is Digital Prophecy; other releases include Electric Sufi.
V.V.Ramana Murthy is an award-winning mridangam artiste who has been playing extensively for the last three decades, and has also been a member of All India Radio.
G. Satya Sai is a leading Indian morsing artiste, and plays a range of Jewish harps. He holds the Guinness Book's record for longest uninterrupted morsing performance (over 24 hours!).
T. Radhakrishnan began playing ghatam at the age of 11 and has performed with dozens of outstanding artistes from south India.
B. K. Chandramouli is an accomplished kanjira and mridangam player, with extensive experience in India and overseas for the past 40 years.
Author:
Madanmohan Rao
Madanmohan Rao is an author and media consultant from Bangalore, and global correspondent for world music and jazz for World Music Central and Jazzuality. He has written over 15 books on media, management and culture, and is research director for YourStory Media. Madan was formerly World Music Editor at Rave magazine and RJ at WorldSpace, and can be followed on Twitter at @MadanRao.