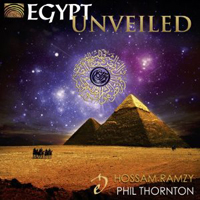 Hossam Ramzy and Phil Thornton
Egypt Unveiled (ARC Music, 2011)
If I told you there was this CD out there by a couple of musicians that have played with the likes of Peter Gabriel, Joan Armatrading, Robert Plant, Jimmy Page, Cheb Khaled, Rachid Taha, Sinead O'Connor, Arthur Brown, Gordon Giltrap and Mandragora, you'd run right out and buy it, right? Well, hang on to your socks because the Egyptian percussionist and composer Hossam Ramzy and the keyboardist, guitarist and synthesizer master and composer Phil Thornton have teamed up for ARC Music's release of Egypt Unveiled. All I can say is take a deep breath, get a running start, leap headlong and wallow because this is just too good for a wimpy toe dip.
Ignoring for a moment my deep and abiding addiction to Middle Eastern percussion for which I'm completely unrepentant, Egypt Unveiled's sound is ripe with intertwining lines of nay, oud, strings, synthesizers, qanun, Ebow guitar, piano, mizmar, rebaba and other musical goodies. The fact that the whole lot is enveloped in shimmering waves of Mr. Ramzy's percussive mastery is just fuel for the fiery mix that is Egypt Unveiled. Hypnotic combinations of layered percussion with nay, kawala, mizmar or oud and qanun turn each track into something spectacular.
Opening with the sensually-charged "Cleopatra's Secret," Egypt Unveiled transports the listener to unbridled exoticism before giving way to the fantastically rhythm driven "Planet Egypt" laced with mizmar, arghul and kawala. With each track better than the one before, it's difficult to pick out a handful of favorites amongst the thirteen tracks. Having said that title track "Egypt Unveiled (part 1) with its dishy oud solo by Hazem Shaeen, along with "Egypt Unveiled (part 2)," the table saturated "Khofu's Return" and the sleekly slick "Electribe Blues" are all stunning. Mr. Ramzy and Mr. Thornton pull out all the stops for heart pounding "Storm Over Giza", turning the track into a feast for the ears complete with wicked guitar licks and dashes of didgeridoo.
Egypt Unveiled was one of those last year's recordings that got passed around and passed over in between offices, so let me correct the oversight by saying that if you don't have this recording go out and get it quick. You need Egypt Unveiled.
Author:
TJ Nelson
TJ Nelson is a regular CD reviewer and editor at World Music Central. She is also a fiction writer. Check out her latest book, Chasing Athena's Shadow.
Set in Pineboro, North Carolina, Chasing Athena's Shadow follows the adventures of Grace, an adult literacy teacher, as she seeks to solve a long forgotten family mystery. Her charmingly dysfunctional family is of little help in her quest. Along with her best friends, an attractive Mexican teacher and an amiable gay chef, Grace must find the one fading memory that holds the key to why Grace's great-grandmother, Athena, shot her husband on the courthouse steps in 1931.
Traversing the line between the Old South and New South, Grace will have to dig into the past to uncover Athena's true crime.