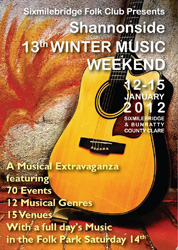 The 13th annual Shannonside Winter Music Weekend will take place in Sixmilebridge and Bunratty, County Clare (Ireland) from Thursday 12th to Sunday 15th January, 2012. The program includes over 70 events in 12 different musical genres across four days.
The festival kicks off on Thursday 12th January in the Sixmilebridge Courthouse with renowned folk musicians Brendan Walsh and Daniel Aherne offering an exciting mix of classical, original and Irish music. On Friday 13th, Sixmilebridge Folk Club will hold afternoon and night sessions, while in the Courthouse there will be appearances by Ireland's leading female blues vocalist Mary Stokes and French-based Cajun music act Sarah Savoy & the Francadians.
Saturday sees a new element to the festival with a full day of action in Bunratty Castle & Folk Park. There will be 22 concerts held in six different locations across the famous tourist attraction, including a morning singer/songwriter session hosted by Castleconnell Folk Club and the Golden Star Morris Dancers, who will appear throughout the Folk Park on the day.
Back in Sixmilebridge, the afternoon is dedicated to pickers sessions where visiting musicians are invited to bring their guitars, flutes, fiddles, etc. and join in the festivities. The Courthouse will stage a poetry reading hosted by Ennis poetry group Three Legged Stool while in the Mill Bar there will be a tribute session to pioneering folk icon Woody Guthrie, the father of folk music who was born 100 years ago this coming July.
On Saturday night, the Courthouse will feature old time-style folk band I Draw Slow, classical/folk act Trio Elatha, bluegrass twins Carrivick Sisters, Gorale Duo from Czech Republic and Slovenia, Cork singer-songwriter Ger Wolfe and past favorites of the festival, Lynne Heraud & Pat Turner, all taking to the stage. In the Mill Bar, Sarah Savoy again features, alongside Swell Berries, who promise hip versions of pre-1950s classics, and lilting Yorkshire singing quintet Kimber's Men.
For lovers of bluegrass, Saturday night features both Down and Out from Belfast and Limerick-based Red Cloud Band. The fourth and final day of the festival includes performances from morning until night featuring Johnny Reidy Céilí Band in Bunratty Castle Hotel, rock-a-hillbilly act Gypsy Rebel Rabble and Wookalilly from Northern Ireland, as well as the lively Finale Concert in the Mill Bar.
For full details of the program, go to www.wmw.ie.
Author:
World Music Central News Department
World music news from the editors at World Music Central