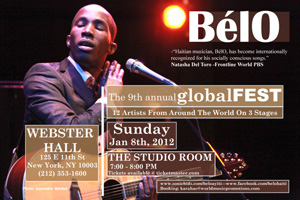 Haitian musician BélO is gearing up to perform tomorrow, Sunday, January 8th, 2012 at globalFEST 2012, the biggest world music showcase event in North America. This will be BélO's first appearance in New York since the release of his latest CD, Haiti Debout.
With Haiti Debout, BélO took a step further into the roots sound, exploring the Haitian "Rasin" rhythms incorporating African influences, rock, reggae, and world beat. Expressing his excitement, BélO said: "I am humbled to be invited at globalFEST and to share the stage with so many talented artists from different parts of the world who are, just like me, crafting new sounds based on traditional music. I plan to enjoy every minute of the night and bring Haiti's heart with me onstage."
After globalFEST , BélO will be performing on Friday January 13, 2012, in Orlando and Saturday Jan 14, 2012, at Artisphere in Arlington, Virginia. BélO is also looking forward to the U.S. concert series in October-November 2012 part of the CenterStage tour sponsored by the U.S. Department of State and administered by the New England Foundation for the Arts.
Born in Haiti in 1979, BélO has been hailed as Haiti's musical ambassador to the world. A socially conscious singer-songwriter with a sophisticated sound, he is the winner of numerous awards, including the prestigious Prix Radio France International Discoveries of 2006. BelO's sound is a mixture of jazz, worldbeat, rock, reggae and Afro-Haitian traditional rhythms known as "Ragganga".
With three albums under his belt, "Lakou Trankil" (Soley Sounds, 2005), "Reference" (NatiProd, 2008), and Haiti Debout (Haiti Stand-up -2011), he sings in his rich and colorful native language, Haitian Creole.
After the January 2010 earthquake in Haiti, BélO's home was fractured, and he was able to relocate temporarily to France with the help of Cultures France. During that time BélO's primary focus was to create awareness for his country at various performances around the world.
Upon returning to Haiti, BélO 's third album Haiti Debout was released under Radio France/France Info and distributed globally by Harmonia Mundi. Already on the first leg of the "Haiti Debout" tour, BélO has performed in Germany, Italy, Romania, France, and the U.S.
12 artists from around the world on 3 stages
Sunday Jan 8th, 2012
Webster Hall
125 E 11th Street
New York, New York 10003
BélO
@ The Studio Room
7:00PM-8:00PM
Author:
World Music Central News Department
World music news from the editors at World Music Central