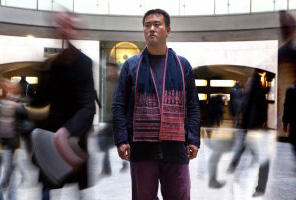 Chinese sheng and jazz harp virtuoso Wang Li is set to perform at globalFEST 2012 on Sunday, January 8th at Webster Hall. Concerts begin at 19:00 (7:00 pm).
Wang Li hails from Tsinghao, a Northeastern Chinese coastal city on the Yellow Sea. He grew up playing jaw harp, and later played bass in Western-influenced bands in college. But his life took a surprising turn once he graduated: Li wound up in an austere French monastery. There, he discovered a new contemplative, intimate vision for the jaw harp and Chinese sheng.
Afterwards, he went on to study jazz at the Paris Conservatory and became fascinated with improvisation. Li then began traveling throughout his native region, learning from local musicians. He mastered circular breathing and the subtleties of his favorite instrument, the jaw harp, evoking an interior world rich with echoes of childhood and moving listeners from the inner turmoil to silence.
Author:
World Music Central News Department
World music news from the editors at World Music Central