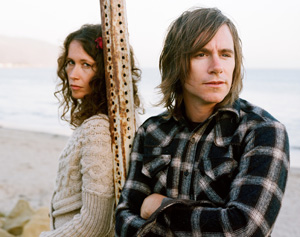 With folk music having been long since used as a vehicle for political expression, Celtic Connections 2012 will trace this evolution and will look at the presence of politics in the current music scene. Celtic Connections 2012 runs from Thursday 19th January – Sunday 5th February and comprises 300 concerts, ceilidhs, talks, workshops, free events and late night sessions taking place over 18 days in 20 venues across Glasgow.
For the 100th anniversary of Woody Guthrie's birth, an all-star line-up of artists will assemble to demonstrate how his seminal impact is as relevant to the music scene today as it was when he was blazing a trail for the likes of Bob Dylan, Pete Seeger, Bruce Springsteen and countless others in the 1940s. A new generation of folk-influenced artists will unite to pay tribute to the ultimate folk figurehead, who transformed the folk ballad into a powerful tool for social protest and observation. Sarah Lee Guthrie, Woody's granddaughter, and her husband Johnny Irion will join Jay Farrar (Son Volt, formerly of Uncle Tupelo), Yim Yames (My Morning Jacket), Anders Parker (Gob Iron) and Will Johnson (also of American supergroup Monsters of Folk) for this special night. They'll give the first live performance of songs from a forthcoming Rounder Records CD – The Woody Guthrie Project – which features Woody's unpublished lyrics with newly-composed music.
World Turned Upside Down brings together Justin Currie, the Karine Polwart Trio, Palestine's Kamilya Jubran, Pura Fé & John Trudell and Chris Wood to highlight the influence and effect of songs of conscience, and their political relevance in the changing world.
A celebration of the 40th anniversary of the successful conclusion of the historic Upper Clyde Shipbuilder Work In and the retention of thousands of jobs in the Clyde shipyards, this concert brings together a number of great Glasgow performers including Arthur Johnston, David Hayman, Jimmie MacGregor and Tom Leonard for a special show. Flute player and composer Eddie McGuire has created a new piece for the concert, inspired by the workers' spirit of resistance which led him to compose a piece which he gave to Jimmy Reid back in December 1971.
The 2012 festival will stage a second musical gathering in memory of singer, songwriter, socialist and revolutionary Alistair Hulett (1951-2010), featuring Dave Swarbrick – with whom Alistair enjoyed a popular duo partnership – and singers/songwriters Roy Bailey, Karine Polwart, Alasdair Roberts and Ian Bruce. Also on the bill will be the winner of the Songs for Social Justice Award, a new songwriting competition aimed at continuing Alistair's musical and political legacy.
More at celticconnections.com
Author:
World Music Central News Department
World music news from the editors at World Music Central