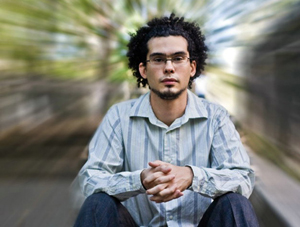 While his name might only be familiar to a American jazz aficionados, Fabian Almazan, at 27, is already being compared with some of the finest Cuban jazz pianists of the past few decades. That Almazan is better known in New York jazz circles than the city he was born in, Havana, is not altogether surprising given that he was only 10 years of age when he left Cuba and that he has lived in the States for the past 17 years, the last eight years in the Big Apple.
A smooth American accent corroborates the young man's assimilation. The transition from classical to jazz pianist has been almost equally seamless, it seems. Almazan was brought up in the classical piano tradition in Cuba. It was not until he was in his mid-teens and living in Miami that he started taking an interest in jazz. "I overheard some peers at my high school playing jazz. It caught my ear. When I started to realise that improvisation gave you the sort of freedom to be able to express yourself, it immediately appealed to me."
For the past four years he has held down a place in the Terence Blanchard Quintet, one of the most respected modern jazz combos in jazz-mad New York and the States in general. Naturally, it took considerable commitment combined with a prodigious talent for Almazan to reach that elite level in little more than a decade. As he observes in a matter of fact manner: "Anything that one tries to do well, unless you have a unique gift, requires a lot of work and it's not easy. I listened to all kind of jazz records, and tried to go out to jam sessions and play with different musicians. Little by little, you learn from your successes and failures."
The first jazz pianist to catch young Almazan's attention was the great Oscar Peterson. "His feel, his clarity were astounding to me. I thought he had a command over the instrument that was unparalleled." He also got very interested in Keith Jarrett. "He was a free sort of musician. I couldn't tell where he was coming at the music from, but I knew that pianistically, too, he also had a unique command over the instrument." Almazan also has a great deal of respect for Dave Brubeck, whom he studied under in California in 2003. He even got to perform with the great man. "That was amazing. I think it may have been 'Take Five' I played with him, though it wasn't really planned. I played with him a couple of times after that. He's a very humble, brilliant man. I really appreciated the time I got to hang out with him."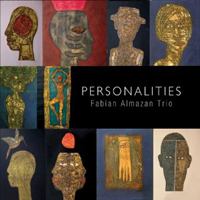 Of the many great Cuban pianists, Almazan has been most influenced by Gonzalo Rubalcaba, a player/composer who has received no fewer than 14 Grammy nominations and two Awards. He's also a huge admirer of Rubén González, though he never saw the late Buena Vista Social Club star in live performance. One of the tracks on Fabian's latest CD, Personalities, was inspired by González's playing.
Although he admits to performing some traditional Cuban music and playing jazz with a Cuban inflection, Almazan considers himself to be an international player. "I'm a strong advocate of being from the world rather than from one country," he avers. "Music has so many avenues available that I find it a little unnecessary to try to box yourself into a genre. I feel that I'm Cuban regardless of what I play — it runs through my blood; it's my culture. I'm very proud to be Cuban but by the same token I'm very happy to have experienced a lot of different cultures and points of view."
Almazan finds the New York jazz scene nourishing. "It's certainly not as cutthroat and competitive as some people think … everybody seems to respect each other. I've never really felt a competitive edge. If anything, I've felt that people are very positive and nurturing. I feel extremely fortunate to have had the chance to play with the Terence Blanchard Quintet — I've learnt an immense amount."
Kendrick Scott, the drummer in Blanchard's Quintet, is also a member of the Fabian Almazan Trio, who were among the star attractions at October's Wangaratta Festival, one of the biggest jazz festivals in Australia. The third member, bass ace Linda Oh, although born in Malaysia and now resident in New York, was raised in Perth in Western Australia. "She'd been trying to get me to Australia for some time," says the Cuban. "I met her when we were both doing the masters program at the Manhattan School of Music". The pianist describes Oh as an amazing composer and a great bass player who is very open to everything.
Almazan was among Linda Oh's sidemen when her quartet performed pieces from an upcoming album, Stories From the Source at Wangaratta. He sees Oh as a kindred spirit. "We're both experimenting with rhythm and harmony in a modern sense. Linda also has her Asian background that she explores, the same way that I explore my Cuban roots, so I feel we're going along the same path, although turning out different results."
• The above interview first appeared in Rhythms, Australia's only dedicated roots music magazine, for which the author is World/Folk correspondent.
Author:
Tony Hillier
Tony Hillier is based in Cairns in far north Queensland, from where he has been actively involved in all areas of the music industry in Australia for the past 25 years, primarily as a journalist, writing for national publications such as the Weekend Australian and Rhythms magazine (for which he is World Music & Folk correspondent), and performing locally, nationally and internationally with the bands Kamerunga and Snake Gully. He has also presented and produced World Music and Folk music programs for ABC Far North, Port Douglas Radio and 4CCR-FM, netting a CBAA Best Specialist Music Program Award with the last-named for a documentary on flamenco. Before coming to Australia, he was a racing journalist of some repute in the UK, where he wrote a column for the London Evening Standard under the nom-de-plume of Ajax.