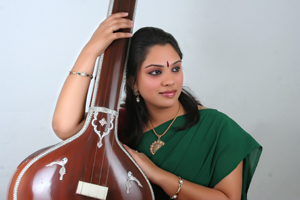 Chennai is deemed to be the Mecca for Indian Carnatic Music and it would be any young artist's dream to be able to perform and get recognised at this spot. Unlike the general perception that Chennai culture is very possessive and protectionist in evaluating and giving opportunities to new musicians – or a fresher as they say, it has become very evident that it is not so at least in toto. Of late we have been witnessing a very catholic approach in the give and take and one can listen to and take a choice from a variety in the menu, starting from the holy cow – senior Carnatic musicians, the middle levels, a Hindustani renderings, Carnatic music musicians from US and other areas, and even Western music well supported by the ICCR (Indian Council for Cultural Relations).
Even then for a young talented musician from Delhi and other states the field is not a cake walk. One has to ­really do well and go through all the acid tests to get a reasonable acceptance and grading.
In this scenario, Hearty congratulation to Delhi Aishwarya Lakshmi for her forthcoming concert cum release of an audio CD of her Bhajan renderings in Chennai.
This CD is the rendering of a thematic collection of Hindi Bhajans titled "Hari Darshan ki Pyasi".
Initiated into Carnatic music at the age of 4 years Aishwarya Lakshmi's first solo performance at the age of 7 for 45 minutes at Kalkaji (Delhi). She has been learning music from Smt. Padmavathi Natesan, a very renowned and respected Music Teacher from Delhi. She has won first prizes in competitions conducted in honour of various great composers like Thyagaraja, Muthuswamy Dikshitar by various organizations and several other forums on various occasions. Kum. Lakshmi has given as many as 50 concerts at various places in Delhi & Chennai. This is notwithstanding the stiff demands of the basic academic-schooling responsibilities.
The occasion of the CD release followed by a live concert is hosted by the renowned organisation "Giri Trading Agency". This event is honoured by the participation of well-known musicians and patrons of music like Sangeeta Vidwan Sriram Gangadaran, Isai Mazhalai Sri Abaswaram Ramji and Sri O.S. Sridhar.
Details:
Date: Wednesday, 14 December 2011 from 0630 PM onwards
Venue:Tattvaloka Audutorium, 76, Eldams Road, Teynampet, Chennai 600018
All are Welcome.
Author:
Dr. Saroja Raman
Dr. Saroja Raman is a vocalist who has been pursuing Carnatic music from the age of 7. She has a Doctorate PhD in Music from the Delhi University, India