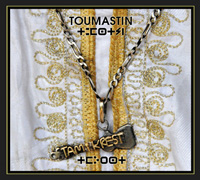 Tamikrest
Toumastin (Glitterhouse Records GRCD 721, 2011)
Mali's Tamikrest do not avoid comparisons to Tinariwen. When they formed in 2006, they'd already listened extensively to the music of their country's premier desert blues band, in addition to the more far-reaching sounds of artists like Bob Marley and Dire Straits. Just as importantly, they share with Tinariwen the nomadic roots of the Saharan Tuareg (or, more properly, Kel Tamashek) people who fought hard against longstanding oppression during the Malian civil war of the 1990s. The main difference is that Tamikrest's members are all a generation or so younger than the players and singers comprising Tinariwen's hardened ranks.
While Tamikrest never actually took up arms and then cast them away in favor of guitars, their subject matter and rebel spirit mark the group as forerunners in the next wave of Tuaregs to bring the blues back to its African origins and mix it with the grungier aspects of Western rock.
Toumastin is Tamikrest's second album, and the serpentine guitars, muttering bass, restless percussion, pensive call-and-response vocals and punctuating ululations are instantly familiar and hypnotic. Likewise, the band's themes of unity, longing and the inspirational vastness of the desert have the ring of something you know and love.
It's great to hear the younger set take up the sandy banner of the Tuareg and wave it as assuredly as their predecessors, and to do so with exactly the raw nuances the music requires. Sure, Tamikrest are following in some pretty big footsteps. But there are no missteps along the way, and as they show on tracks like the lengthy, viola-seasoned "Dihad Tedoun Itran" the sonic trail they're leaving across the Saharan landscape is very much their own and well worth heading down.
Author:
Tom Orr
Tom Orr is a California-based writer whose talent and mental stability are of an equally questionable nature. His hobbies include ignoring trends, striking dramatic poses in front of his ever-tolerant wife and watching helplessly as his kids surpass him in all desirable traits.