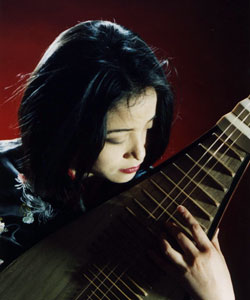 Wu Man, 'the princess of pipa', has single-handedly established her instrument on the world stage in recent years via solo performances and a series of cross-cultural collaborations.
While it boasts a history of more than 2000 years, the pipa in Wu Man's hands blends beautifully with modern instruments. The rich tonal qualities and resonant timbre of this four string, 26 frets instrument afford it wide powers of expression.
"The pipa is very rich, with lots of colours," Wu Man concurs. "Western audiences always seem to pick up a familiar sound. People say it sounds like a harp, a ukulele, mandolin or a banjo. Having lived outside of China for many years, I've had a chance to work and study with a lot of different musicians from different cultures. I've purposely tried to show how this instrument could have different faces. In the early '90s, nobody knew pipa; everybody looked at it very strangely. Now it's the most popular Chinese instrument in the West in every genre — orchestra, string quartet, theatre, dance, world music. I'm very proud of that and hope that I'll keep doing that and find a way to keep the younger generation interested."
Although she makes annual visits to China, Hangzhou-born Wu Man, the first recipient of a master's degree in pipa (from the Central Conservatory of Music in Beijing), has for the past 21 years been based in the USA, from where she has introduced pipa to a worldwide audience.
In recent years, Wu Man has been a big hit in Australia, where she has performed at a handful of major events since 2008. At Adelaide's inaugural Earth Station in October, Wu Man renewed a long and fruitful association with the Kronos Quartet, with whom she performed when both supported Bollywood superstar Asha Bhosle in the South Australian capital several years earlier at the WOMADelaide festival. "That concert was huge," she recalls. "I also remember at WOMADelaide that I played a workshop on a small stage. It was quite a challenge for me because I'd never played pipa at an outdoors venue before."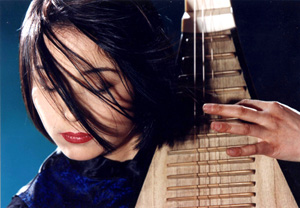 Earlier this year, the pipa player linked up with Kronos again at the Sydney International Festival, delivering a Chinese-themed double bill Ghost Opera and Chinese Home. "We received a long standing ovation there," she reports. At Earth Station, Wu Man performed extracts from a very different piece with the Quartet — The Cusp of Magic, which was specially written by composer Terry Riley for her instrument. "A couple of movements are very influenced by Indian music." When she received the music to the first movement, she actually thought it was a sitar piece. "It was very different from my background, especially the rhythmic part. Together with a string quartet, it makes the sound amazingly coloured and beautiful."
One of Wu Man's other concerts at Earth Station included a couple of items from her last solo album Immeasurable Light, involving six musicians who came to Australia direct from China. "We played traditional and contemporary Chinese pieces," she reports. "It was the first time that we had all played together — pipa, zither, erhu, flute, dulcimer, sheng and percussion."
Wu Man says she has also benefited enormously from performing with great musicians from different cultures and orchestras around the world. "I've certainly learned a lot from the Kronos Quartet. I've also had a chance to work with musicians from Central Asia that take me back to my pipa roots. I'm currently working with a musician from Tajikistan. I've been involved with [cello maestro] Yo-Yo Ma on the Silk Road Ensemble for over 10 years now. That's very different from the Kronos collaborations. We're always looking for different ideas. Through Silk Road, I've worked with musicians from Iran, Azerbaijan and other places."
One of Wu Man's more interesting projects came with the English folk slide guitarist and banjo maestro Martin Simpson, whom she had never met prior to their recording together. "He had no idea what a pipa was, so we started chatting and I opened the case and showed him it and he showed me his guitar and we exchanged instruments. He tried to play the pipa and I tried to play his guitar. After a while we asked, 'What are we gonna do?' The recording session basically lasted the whole night, finishing up at six o'clock in the morning. We improvised. It turned out beautiful. It was very natural. It was easy to communicate musically once the session started."
• Part of the above interview first appeared in Rhythms, Australia's only dedicated roots music magazine, for which the author is World/Folk correspondent.
Author:
Tony Hillier
Tony Hillier is based in Cairns in far north Queensland, from where he has been actively involved in all areas of the music industry in Australia for the past 25 years, primarily as a journalist, writing for national publications such as the Weekend Australian and Rhythms magazine (for which he is World Music & Folk correspondent), and performing locally, nationally and internationally with the bands Kamerunga and Snake Gully. He has also presented and produced World Music and Folk music programs for ABC Far North, Port Douglas Radio and 4CCR-FM, netting a CBAA Best Specialist Music Program Award with the last-named for a documentary on flamenco. Before coming to Australia, he was a racing journalist of some repute in the UK, where he wrote a column for the London Evening Standard under the nom-de-plume of Ajax.