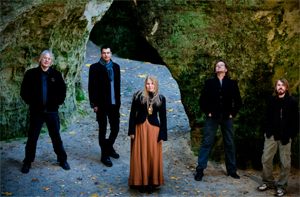 Ilgi, Latvia's leading postfolk band, will celebrate its 30th anniversary with a concert at Palladium Riga on December 3rd.
The audience will be treated to a multifaceted program of songs ranging from tranquil to upbeat, representing all three decades of Ilgi's repertoire. Over the course of the evening the band will be joined onstage by friends and former members, including Zane Smite, Biruta Ozolina, Mikus Cavarts, Arnolds Karkls, Juris Riekstins, Juris Kroics, Janis Abens, Vilnis Strods, and Ugis Praulins. At the end of the concert Viteri, a popular group of young folk musicians from Latgale, will get traditional dances off to a lively start.
For thirty uninterrupted years Ilgi has drawn inspiration from Latvian folklore to create its own original music, and has familiarized more than one generation with ancient Latvian songs. Ilgi developed and uses its unique postfolk style to translate an age-old and nearly forgotten tradition into a contemporary one.
Ilgi has received multiple awards for Best Contemporary Folk Album from the Latvian recording industry, as well as the Latvian National Grand Music Award from the Ministry of Culture. In 2006 Ne uz vienu dienu received international recognition, taking the No. 2 spot on the World Music Charts Europe. Ilgi's thirteenth album, Tur saulite perties gaja, will be made available for the first time at the Anniversary Concert.
Ilgi regularly performs within Latvia and across Europe, has toured further abroad in the United States, Canada, China and Australia, and made its first appearance in Malaysia this year at the Rainforest World Music Festival. Current members are Ilga Reizniece, Maris Muktupavels, Gatis Gaujenieks, Egons Kronbergs and Martins Linde.
Tickets for the Anniversary Concert are available at Bilesu Serviss vendors throughout Latvia and online at www.bilesuserviss.lv. The concert begins at 7 p.m. on December 3rd at Palladium Riga. The venue, a former movie theater refurbished and rebuilt in 2011 to house a state of the art concert hall, is located at Marijas iela 21, Riga, Latvia.
Additional information about Ilgi is at www.ilgi.lv and on Facebook.
Author:
World Music Central News Department
World music news from the editors at World Music Central