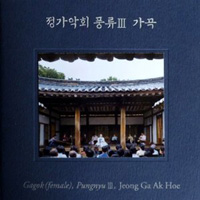 JeongGaAkHoe
Gagok (Female) Pungnyu III (AkdangEban, 2011)
Considered one of the most revered vocal styles of Jeongak or Korean court music and on part of UNESCO's List of the Intangible Cultural Heritage of Humanity, Gagok gets its due with AkdangEban's release of Gagok (Female) Pungnyu III by the group JeongGaAkHoe. Rising from the Goryeo Dynasty (918-1392), refined and reworked through to the Joseon Dynasty (1392-1897) Gagok is represented by some 41 songs, all part the collective known as "Mannyon Changhwanjigok" or "Song of Ten-Thousand-Year Joy." Performing nine of these songs on Gagok (Female) Pungnyu III, JeongGaAkHoe gives Western listeners a rare look into this priceless Korean musical tradition.
The music of Gagok (Female) Pungnyu III is all about sublime nuance, so those of you looking for quaint Korean folk tunes should perhaps look elsewhere. That being said, this music is utterly breathtaking. Spare and meditative, Gagok (Female) Pungnyu III celebrates the unrushed elegance. JeongGaAkHoe works their way through such gems as "Ujo Isudaeyeop," "Ujo Dugeo" and "Pyeonsudaeyeop," unfolding each like a flower. Listeners will appreciate the restrained beauty of each track and find a precious expressiveness to the poetry of the vocals.
JeongGaAkHoe is made up of vocalist YoonSeo Kim, komungo player JaeHyun Chun, gayageum player HyunChe Kim, daegeum player HyunSoo Kim, piri player HyangHee Lee, haegeum player SeungHee Lee, danso player ChoRong Bang and changgo player YeSeul Kim. With these string, woodwind and percussion instruments Korean court songs finds a new life with this recording.
Gagok (Female) Pungnyu III is a stunning look into this centuries old musical tradition from Korea's past.
Author:
TJ Nelson
TJ Nelson is a regular CD reviewer and editor at World Music Central. She is also a fiction writer. Check out her latest book, Chasing Athena's Shadow.
Set in Pineboro, North Carolina, Chasing Athena's Shadow follows the adventures of Grace, an adult literacy teacher, as she seeks to solve a long forgotten family mystery. Her charmingly dysfunctional family is of little help in her quest. Along with her best friends, an attractive Mexican teacher and an amiable gay chef, Grace must find the one fading memory that holds the key to why Grace's great-grandmother, Athena, shot her husband on the courthouse steps in 1931.
Traversing the line between the Old South and New South, Grace will have to dig into the past to uncover Athena's true crime.