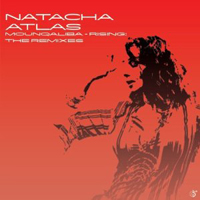 Natacha Atlas
Mounqaliba Rising – The Remixes (Six Degrees, 2011)
Remix junkies rejoice because once you crack open the gorgeous exoticism of Natacha Atlas's Mounqaliba Rising – The Remixes there's no going back. Ripe with the rich Arabic flavors of the original tracks, the remixes rework and remake the music, transforming it into a dense electronica landscape that crafts together the light and the dark. Acutely atmospheric and dazzlingly driven,
Mounqaliba Rising – The Remixes is flagrantly thrilling and global dance made to order.
Opening with Cheb I Sabbah remix "Batkallim" The Sun of Egypt," Mounqaliba transports the listener to a brutally vibrant musicscape filled with slick electronica and a flurry of Middle Eastern strings. It's hard to resist the maze of the Nickodemus & the Spy from Cairo remix of "Makaan," the Radiohiro remix of "Taalet" and the fiery remix of Beats Antique's remix of "Makaan." There's also David Starfire's remix of "Batkallim," the dark mysteries of Syriana's remix of "Ghoroub: For Tahirir Square" and Bombay Dub Orchestra's dishy remix of "Batkallim: Atlas of the World Mix" to tempt remix fans. 310 Radio's take of "Riverman" and Ms. Atlas and Basha Beats remake of "Egypt: Rise to Freedom" making this collection of remixes wonderfully eclectic.
Electric and strikingly sumptuous
Mounqaliba Rising – The Remixes makes global fusion magically delicious.
Author:
TJ Nelson
TJ Nelson is a regular CD reviewer and editor at World Music Central. She is also a fiction writer. Check out her latest book, Chasing Athena's Shadow.
Set in Pineboro, North Carolina, Chasing Athena's Shadow follows the adventures of Grace, an adult literacy teacher, as she seeks to solve a long forgotten family mystery. Her charmingly dysfunctional family is of little help in her quest. Along with her best friends, an attractive Mexican teacher and an amiable gay chef, Grace must find the one fading memory that holds the key to why Grace's great-grandmother, Athena, shot her husband on the courthouse steps in 1931.
Traversing the line between the Old South and New South, Grace will have to dig into the past to uncover Athena's true crime.