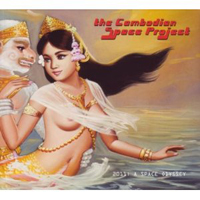 The Cambodian Space Project has released their debut album titled 2011: A Space Odyssey (Metal Postcard, 2011). The band is clearly inspired by the success of Cambodian American band Dengue Fever. The Cambodian Space Project plays psychedelic Khmer-pop, rock and 1960s surf music with Cambodian vocals.
Based in Phnom Penh, The Cambodian Space Project is fronted by the charismatic Srey Thy and made up of Australian, French and Cambodian musicians. Recorded in Cambodia, the album was made as a tribute to the musicians of Cambodia's musical golden-age, building on the legacy of the likes of Ros Sereysothea, Sin Sisamouth and Pan Ron. Most tracks on the album were originally written for or by these three legends of Cambodian music, and Cambodian Space Project reworked them with a Western edge.
The cross pollination of cultures is perhaps best highlighted on the track "Kolos Srey Chaom" ("Love Gold"), on which Sry Thy sings the words from a Ros Sereysothea track over Dutch rock band Shocking Blue's classic "I'm Your Venus."
Cambodian Space Project formed in 2009 when Australian musician and film producer Julien Poulson visited Phnom Penh looking for Cambodian musicians to work with. He stumbled across lead vocalist Srey Thy singing in a karaoke bar and was instantly taken with her. A couple of months later she was part of a band and The Cambodian Space Project was born. This 30 minute long mini-album is housed in an 8-panel digipak.
Author:
World Music Central News Department
World music news from the editors at World Music Central