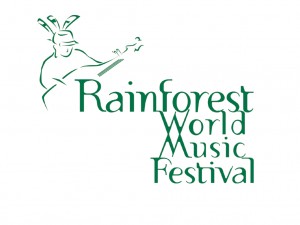 World music magazine Songlines has put together a package which will enable festival-goers to experience both the festival and Sarawak (Malaysian Borneo) itself – Where Adventure Lives. "Sarawak is an incredible location for a festival," says Songlines Editor Simon Broughton, "and hearing some of Sarawak's glorious indigenous music, as well as a fantastic range of international groups, is a great way of getting deeper into the island's culture."
The Rainforest World Music Festival will once again be held from 13 to 15 July 2012. Voted for the second consecutive year as one of the Top 25 Best International Festivals by renowned world music magazine, Songlines, it has well and truly put Sarawak on the world music map and has brought new visitors to the island from near and far.
Among the packages offered are "The 8 days Kuching Rainforest Festival" which apart from attending the Rainforest World Music Festival, also includes a city tour as well as a cruise on the legendary Sarawak River.
Visitors also have the chance to visit the Bako National Park, one of the best places in Borneo to see wildlife. Proboscis monkeys, long tail macaques, wild boar and monitor lizards are commonly spotted amidst rainforest ranging from mangroves to swamp vegetation.
Those who have more time to spare can opt for "The 13 days Kuching Rainforest Festival and the Interior of Borneo" on which they will explore the Mulu National Park, one of the three UNESCO World Heritage Site of Malaysia, in its category.
There are more options available depending on budget. Details available online at http://songlines.co.uk/music-travel/tours-festivals-2012/borneo.php
These packages to Sarawak allow visitors to step into real adventure in Borneo. You can stroll for a morning in the national park near your hotel, or trek through pristine jungle, or spend days exploring the world's most extensive cave system. If you have an interest in history, visit caves that were inhabited 40,000 years ago, learn how Indian and Chinese merchants traded for Sarawak's exotic products centuries before the first European came to the region. Hear stories of princes and pirates, of headhunters and explorers.
You can also relax on the beaches overlooking the South China Sea, scuba dive off reefs where you will be alone with the sea, or enjoy a round of golf on one of its excellent courses.
The Rainforest World Music Festival, now in its 15th edition, brings dazzling performances from across the globe as festival-goers flock to the magical land of Borneo for three days of daytime Music Workshops and action-packed Nightly Shows.
The kinship and spirit among music makers and music lovers alike as they celebrate in this unique green haven dominated by thousand-year old trees. The festival spirit is as timeless as the intricate ecosystem that celebrates the diversity of life.
Over three days there are afternoon workshops that allow festival-goers to interact with the musicians and experience the music and dance of Sarawak's indigenous cultures up close. At night there are five hours of music on the main stage and the smaller "Tree Stage" that carries on past midnight.
The festival culminates in a huge finale on the final night, where all performers are invited to play onstage as one. Its mix of workshops, lectures, jam sessions and concerts, small and large, are a wonderful experience. All this in the lush, green environment is unforgettable.
Author:
World Music Central News Department
World music news from the editors at World Music Central