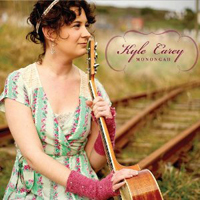 Kyle Carey
Monongah (Independent Release, 2011)
American songster Kyle Carey's self-release "Monongah" which blends Appalachian, light gospel, and Celtic folk sounds refreshing with its compelling stories. Carey has talent to burn as a songwriter, and a mature, clear voice in which to deliver her stories—more or less tales with some intriguing characters. Not only that the musician brings luminous musical talent on board with musicians from Lunasa and Cherish the Ladies, among others.
Her stories are sung against a lush background of mandolin, guitar, and banjo. I think I might have heard some strings in there somewhere to, but it's late in the day and my brain feels exhausted. I do
remember the sweet melodies that climb into my head and I catch myself humming them. The cadence of "Devil at your Back" with its lilting guitar rolling along certainly fits that category and so does
"Virginia", a story about an authentic wayward woman, and so does the lament "John Hardy's Wife" and the closing "Adenine".
I listened to the album on headphones to pick up the nuances of the warm acoustic production. I enjoy listening to Carey's vocals and find them soothing and informative. For anyone who enjoys hearty
tales and strong melodies performed on acoustic instruments, this one's for you. I'm not sure why it took this long for a talent such as Kyle Carey to cross my path, but I'm glad the day finally arrived.
More about the artist at http://www.kylecarey.com
Author:
PatriciaHerlevi
Patricia Herlevi is a former music journalist turned music researcher. She is especially interested in raising music consciousness. She is looking for an agent and publisher for her book Whole Music (Soul Food for the Mind Body Spirit). She founded and hosts the blog
The Whole Music Experience and has contributed to World Music Central since 2003.