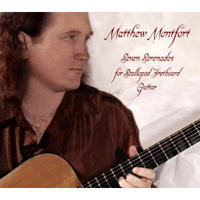 Matthew Montfort
Seven Serenades for Scalloped Fretboard Guitar (Ancient Future)
Matthew Montfort, leader of the world fusion group Ancient Future, steps out solo here with a set of carefully crafted tunes on scalloped fretboard guitar, giving it a distinctly Indian feel. The 7 tracks span just about an hour of fine acoustic listening pleasure, perfect for an early morning or mealtime experience.
Our picks include the tracks Sangria and Celtic Raga. Montfort's guitar combines qualities of the South Indian veena and the steel string guitar. He intensively studied with veena master K.S. Subramanian, and has also performed flamenco guitar, charango and mandolin. He has recorded with Indian tabla maestros Swapan Chaudhuri and Zakir Hussain.
Author:
Madanmohan Rao
Madanmohan Rao is an author and media consultant from Bangalore, and global correspondent for world music and jazz for World Music Central and Jazzuality. He has written over 15 books on media, management and culture, and is research director for YourStory Media. Madan was formerly World Music Editor at Rave magazine and RJ at WorldSpace, and can be followed on Twitter at @MadanRao.