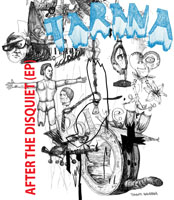 Tarana
After the Disquet (2011)
Ravish Momin is the musician behind the Tarana project. After the Disquet is a self-released EP that demonstrates Momin's musical explorations, aiming to break boundaries.
After the Disquet features Ravish Momin on drums and electronics and Trina Basu oon violin. Momin uses free form jazz combined with Asian, Middle-Eastern and African influences.
The opening track, 'Disposable,' is based on a North-Indian folk song, with changing tempos and moods. 'Hava' is inspired by the 'Hava Mahaal' (Palace of Air) in Jaipur, India, which has numerous cleverly placed windows that continually create air-flow in the intense desert climate. 'Night Song' is dedicated to the late and great jazz bassist Wilber Morris. 'The Black Teeth of Trees' is the only track that is completely improvised.
Tarana is led by New York-based percussionist and composer Ravish Momin, who was born in India and also lived in Bahrain. Tarana itself refers to a song-style in North Indian Classical Music where nonsense syllables or mnemonic drum sounds are used to spontaneously create a fluid chant or composition.
Tarana, the duo, primarily utilizes Indian and East-Asian rhythms as the foundation for an exploratory musical experience.
Ravish Momin studied drum set with Andrew Cyrille and Bob Moses. He has also studied North Indian percussion with Misha Masud, a disciple of Ustad Zakir Hussain.
Trina Basu is a violinist residing in Brooklyn, New York. Her influences include the classical traditions of Europe and India, folk and jazz traditions of America, and improvisation.
Buy the album from tarananyc.bandcamp.com
Author:
World Music Central News Department
World music news from the editors at World Music Central