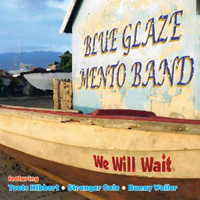 Blue Glaze Mento Band
We Will Wait (Bilmon Productions, 2011)
Before ska, rocksteady, reggae, dub or dancehall, Jamaica gave us mento. It was and is the music affiliated with the island's rural regions, and like the calypso music from elsewhere in the Caribbean, mento is a melodic examination of topical matters, cultural concerns, longstanding traditions and human quirks. There's likely to be a few cheerfully bawdy lyrics in the picture as well, albeit with a subtlety that makes warning stickers unnecessary.
The Blue Glaze Mento Band have been masters of the style since 1967 but haven't recorded many albums, so this new release of theirs is a must for anyone wanting an earful of delightfully deep Jamaican roots. And I'm talking real roots.
The instrumentation is an all-acoustic mash of guitars, banjo, percussion and anchoring rhumba box providing low end in place of a bass. Such an array is precisely what's needed to accompany the rustic, comfortably worn lead vocals of front man and main composer Vernal Morgan as he weighs in on celebratory matters ("Wheel and Turn Me," "Skanking Mood"), everyday struggles ("Suffering Time") and humorous anecdotes ("Parson, Don't Bury the Man," "Mo Bay Chinaman," "Night Food").
Some heavyweight guest artists give the whole affair even more of a classic feel, including Stranger Cole providing suitably resilient singing for his composition "Rough and Tough," Toots Hibbert in finest gospel mode on "Great Jehovah" and Bunny Wailer likewise calling out to a higher power on the title track. While such names suggest that reggae fans will find enjoyment in this album, the jaunty, thumping rhythms (seasoned throughout by another esteemed guest, percussionist Sticky Thompson) assure as much. For all its vintage shadings, We Will Wait sounds perfectly fresh and ready to provide repeated listening pleasure.
Buy the album or MP3 downloads:
Author:
Tom Orr
Tom Orr is a California-based writer whose talent and mental stability are of an equally questionable nature. His hobbies include ignoring trends, striking dramatic poses in front of his ever-tolerant wife and watching helplessly as his kids surpass him in all desirable traits.