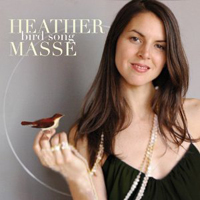 Heather Masse – Bird Song (Red House Records, 2009)
The Wailin' Jennys – Bright Morning Stars (Red House Records, 2011)
The music industry is rife with irony. For instance Heather Masse, a musician with a solo career and a member of two bands, marks the third alto vocalists for the Canadian band The Wailin' Jennys. The first two altos left the band to pursue solo careers, but neither of them became a "Home Prairie Companion" darling in the manner that Masse had. However, each alto brought her own signature to the band such as the old English ballads influence of Cara Luft and the mandolin-tinged bluegrass of Annabelle Chvotsek and each vocalist helped to transform WJ.
Heather Masse, the only American vocalist in the band, brought her music conservatory experience, mainly as a jazz vocalist and her love of old timey blues and jazz. While you can certainly hear these influences in the form of bluegrass swing ("Cherry Blossom Love") on the WJ's third studio recording, "Bright Morning Stars," Masse's solo outing "Bird Song" delves into smoky blues with country guitar riffs ("High Heel Woman"), socio-political fare that recalls Joan Baez and Joni Mitchell ("Our World," "Chosen") and folk-pop ("I Don't Want to Wake Up") and gospel-blues ("Over the Mountain"). Masse's style, though elegant feels too diverse at the moment, almost lacking a clear direction. Yet, the alto pens enticing hooks such as on the title track, which sticks in your head all day. And we hear Masse's vocal range to full effect here, from subtle and sexy ("Bathtub") to rousing and humorous ("High Heeled Woman").
Masse's eclectic album should please fans of Americana and jazz since the musicians blends the best of both worlds, though you won't find any virtuoso solos of mandolin, guitar, or banjo players here. The album showcases Masse's vocal range and songwriting skills, not to mention her quirky sense of humor. And no doubt Wailin' Jenny fans will gobble this one up.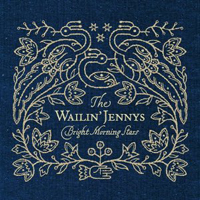 "Bright Morning Star" marks the first Wailin' Jennys studio album that includes Masse. Oddly she doesn't play bass on the album, Bill Dillon, a guest musician, handles guitar, bass, and mandolin duties. The instrument arrangements and production appear status quo with previous studio albums, but the vocal harmonies have less of a wowing effect here (exceptions "Cherry Blossom Love," "Storm Comin'" and "Across the Sea"). Perhaps I need to bring out the headphones and take a closer listen. That doesn't take away however from the beauty of the songs, which seem more personal as if the musicians carry the weight of the world.
The album provides plenty of poetic images, especially of the natural world such as on Masse' "Bird Song," Nicky Mehta's requiem "Away But Never Gone," and Moody's "Storm Comin'". If I had to lump this album into a genre, I'd choose bluegrass and in second place I'd choose alternative country western. The women provide us with heartfelt vocals (especially Mehta) and well-crafted songs that should please any music lover of any genre.
Buy Bird Song:
Buy Bright Morning Stars:
Author:
PatriciaHerlevi
Patricia Herlevi is a former music journalist turned music researcher. She is especially interested in raising music consciousness. She is looking for an agent and publisher for her book Whole Music (Soul Food for the Mind Body Spirit). She founded and hosts the blog
The Whole Music Experience and has contributed to World Music Central since 2003.