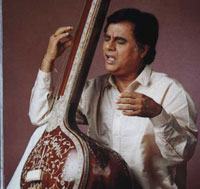 Singer, composer and musical director Jagjit Singh died October 10, 2011 in Mumbai, India at the Lilavite hospital. Mr. Singh had been in a coma since suffering a stroke in September. He was 70.
Born in Sri Ganganagar, Rajasthan on February 8, 1941, Mr. Singh began his musical career in childhood under the tutelage of Pandit Chaganlal Sharma, and later studied the Indian Classical forms of Khayal, Thumri and Dhrupad under Ustad Jamaal Khan of the Sainia Gharana school. He also had a degree in science and a post-graduate degree in history.
Mr. Singh earned his title of Ghazal King as he gained popularity along with his wife and singing partner Chitra Singh for their commercial recordings during the 1970s and 80s as the first husband-and-wife singing duo. Having a soothing and gentle way with the ghazal, as well as being able to sing in Punjabi, Hindi, Urdu, Bengali, Gujarati, Sindhi and Nepali, Mr. Singh popularized the ghazal and is credited with opening the form in order for audiences to sing along.
Having more than 80 recordings to his credit as well as movie soundtrack credits, Mr. Singh's discography includes such recordings as Aaina, Cry for Cry, Devotional Album/Shri Krishna Naam Dhun, Marasim and Samvedna and appearing on the soundtracks for such films as Pyar Kare Dis: Fell the Power of Love, Bhopal Express and Sarfarosh among others. He earned the Padma Bhushan award in 2003.
Beyond being a favored and popular singer, Mr. Singh was also a devoted philanthropist for such organizations as Save the Children, Bombay Hospital, St. Mary's School and the Indian children's right group Child Rights and You.
Author:
TJ Nelson
TJ Nelson is a regular CD reviewer and editor at World Music Central. She is also a fiction writer. Check out her latest book, Chasing Athena's Shadow.
Set in Pineboro, North Carolina, Chasing Athena's Shadow follows the adventures of Grace, an adult literacy teacher, as she seeks to solve a long forgotten family mystery. Her charmingly dysfunctional family is of little help in her quest. Along with her best friends, an attractive Mexican teacher and an amiable gay chef, Grace must find the one fading memory that holds the key to why Grace's great-grandmother, Athena, shot her husband on the courthouse steps in 1931.
Traversing the line between the Old South and New South, Grace will have to dig into the past to uncover Athena's true crime.