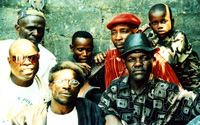 Some extraordinary bands have emerged from the turmoil and tumult that is Third World Africa, such as Sierra Leone's Refugee All Stars, who were born out of a bloody civil war, and the southern Saharan band Tinariwen, forged during the Tuareg rebellion. Congolese collective Staff Benda Bilili might not have been created during a conflict, but its emergence assuredly belongs in the annals of amazing success stories to have come out of Africa.
Formed by a group of street musicians living in and around the grounds of a zoo, the band is fronted by four disabled polio victims, all singer-guitarists, who get around the Congo's bustling capital Kinshasa on eye-catching customized tricycles, and a teenage prodigy who plays a self-invented one-string electric lute built out of a tin can. The title of Benda Bilili's 2009 debut album, Trés Trés Fort, French for "very strong", and their moniker, which means "look beyond appearances", sums up the ensemble's indomitable spirit and exuberant music.
Staff Benda Bilili has garnered acclaim in Europe. The combination of a self-titled documentary, successfully launched at this year's Cannes Film Festival, and the consequent re-issue of their album is expected to earn them attention worldwide. The recipients of the 'Best Group' gong in UK magazine Songlines' annual awards enjoyed an extensive tour of summer festivals in Europe that saw them hit Glastonbury, WOMAD, Roskilde et al. There's a strong rumor that they'll be heading to Australia next year.
Hanna Gorjaczkowska, Managing Director of Belgian record label Crammed Discs, which is behind Benda Bilili's success, reports that the release of the film has had a big impact on the band's popularity, especially in France and in the UK. "The tours were planned before the film was released, but of course the new angle generated more publicity. Benda Bilili was a great success at Cannes, even if the film didn't receive a prize … the reviews were amazing."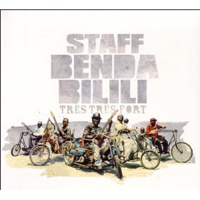 French film directors Florent de La Tullaye and Renaud Barret and the CD's sound engineer/producer Vincent Kenis are largely responsible for the band's wide exposure. "Florent and Renaud discovered them and made the documentary," Kenis concedes. "I became aware of SBB's existence when I saw them in a film called Jupiter's Dance that Florent and Renaud sent me in an attempt to convince Crammed Discs to release an album. They told me that they also had produced an album by them. Listening to it, I had the intuition that they could do much better under my guidance, so I suggested we started from scratch."
Recording the band posed a few problems. "The first challenge was to reduce the list of permanent members. SBB used to be a collective of nearly 20 people," Kenis explains. "Some of them would come to a rehearsal, then disappear for two weeks, then come back having forgotten everything and needing to be informed about the changes done in the arrangements while they were away, which was a huge waste of time." Another challenge was to "capture the magic of some sessions … and trying to make it happen again every time." That Kenis eventually surmounted all obstacles is reflected in the final product. Trés Trés Fort is a riveting album permeated by the infectious rhythm of Congolese rumba and the distinctive sound of satonge, the name given to the instrument invented by the band's youngest member, Roger Landu. Although they have new songs, the follow-up album is a year away yet.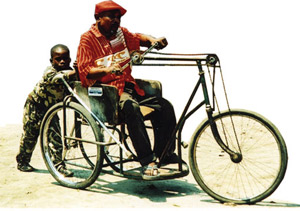 While the band's charismatic leader, Leon "Ricky" Likabu, admits that SBB have incorporated some external influences, he insists their rumba-based music is unique. "There are a lot of other groups in Kinshasa but they're not like us," he avers. "The band is also transmitting messages. It's about educating people. We're talking about taking children to get vaccinated against polio, to support street children, lots of things."
When Kenis began working with Benda Bilili in 2007 he arranged for them to jam with Konono N°1, another incredible Kinshasa act that he produces. "Unfortunately they quickly reached the limit of what they could do together, since the likembes used by Konono N°1 let them only play in the key of A." Kenis also set up sessions with visiting musicians Damon Albarn (Blur, Gorillaz), Amadou (of Amadou & Mariam fame) and Tony Allen (Africa '70). Benda Bilili cite French pop star Johnny Hallyday and the late Godfather of Soul James Brown, who played in Kinshasa during the Ali-Foreman fight 'Rumble in the Jungle' back in the '70s, as bigger influences.
Since their overseas' success, band members no longer live in the surrounds of Kinshasa Zoo. "They all bought a piece of land or a house with their first earnings," Kenis reports. "Their many children can at last afford to go to school, which is quite expensive in Congo." International recognition has an even deeper resonance for Staff Benda Bilili. As their producer conveys: "They are especially glad to hear critics say that you don't need to know they're handicapped to enjoy their music."
• The above interview first appeared in Rhythms, Australia's only dedicated roots music magazine, for which the author is World/Folk correspondent.
Staff Benda Bilili recordings available:
Author:
Tony Hillier
Tony Hillier is based in Cairns in far north Queensland, from where he has been actively involved in all areas of the music industry in Australia for the past 25 years, primarily as a journalist, writing for national publications such as the Weekend Australian and Rhythms magazine (for which he is World Music & Folk correspondent), and performing locally, nationally and internationally with the bands Kamerunga and Snake Gully. He has also presented and produced World Music and Folk music programs for ABC Far North, Port Douglas Radio and 4CCR-FM, netting a CBAA Best Specialist Music Program Award with the last-named for a documentary on flamenco. Before coming to Australia, he was a racing journalist of some repute in the UK, where he wrote a column for the London Evening Standard under the nom-de-plume of Ajax.