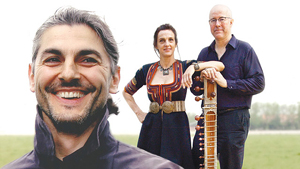 Theodosii Spassov & Balkan Tales will be performing on Sunday, October 23, 2011 at 7:00 PM at Peter Norton Symphony Space in New York City. Bulgarian national icon Theodosii Spassov, stunning vocalist Vlada Tomova, and innovative sitarist Chris Rael come together in this exciting program that brilliantly weaves the joyous folk traditions of Bulgaria with world sounds.
Bulgarian kaval (eight-hole wooden shepherd's flute) virtuoso Theodosii Spassov is one of Eastern Europe's leading musicians and a musical hero in Bulgaria. Vlada Tomova, founder of the New York Bulgarian women's choir Yasna Voices, has been acclaimed for her powerful vocalizations that evoke the stark, rich spirit of Balkan mountainsides and fields; her ensemble Balkan Tales encompasses Bulgarian folk, jazz and pop, often in thrilling odd-metered time. Chris Rael, leader of Church of Betty, displays elegant sounds that recall the Bulgarian culture shaped by ancient Eastern migrations.
The program includes selections from the new CD Balkan Tales (Kuker Music), which features original arrangements of Bulgarian traditional songs, as well as two compositions by Spassov and Rael influenced by Bulgarian and Indian folk styles, respectively.
This program is made possible in part with public support provided by the New York State Council on the Arts, a State agency, and the New York City Department of Cultural Affairs.
Peter Norton Symphony Space
Broadway at 95th Street, NYC
$30; students $20
Box office (212) 864-5400
Info/tickets (212) 545-7536
http://www.wminyc.org
Author:
World Music Central News Department
World music news from the editors at World Music Central