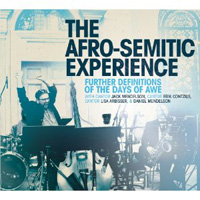 The Afro-Semitic Experience
Further Definitions of the Days of Awe (Reckless DC Music RMCD 1055, 2011)
Continuing their unlikely though intriguing fusion of African and Jewish spiritual music, the Afro-Semitic Experience present their most ambitious work to date. They've set the cantorial music of Selichot, the service that begins Judaism's High Holy Days, to boldly innovative arrangements with the potential to get you moving as fervently as David danced before the Lord in the Book of Samuel.
The band had been playing midnight Selichot services at a synagogue in White Plains, New York for the past decade or so, and long about August of 2010 decided the material was honed enough to record live at concerts in New York City, New Haven, Connecticut and Greenfield, Massachusetts.
The results are a stunning mixture of ancient cantoring, modern electronic atmospherics and jazz/Latin/African/soul rhythms that add up to not only a religious experience, but also an unparalleled musical one. Some may cry sacrilege at hearing atonement-seeking prayers sung over accompaniment ranging from tango to mambo to bolero to ska, but those who don't see any problem in giving tradition some respectfully lively embellishment will be giving thanks and praises for all of this disc's 78 minutes.
And it should be noted that there are recurring slow passages, often accompanied by bowed bass, during which guest principal cantor Jack Mendelson and colleagues Daniel Mendelson, Eric Contzius and Lisa Arbisser set a suitably reverent tone, building anticipation for the Afro-Semitic Experience's next jump-in of keyboards, bass, reeds, trumpet, drums and percussion. Should you be in need of music to make your Days of Awe appreciably more awesome or longing for sounds that mix mysticism with melodic righteousness, this unique album is for you.
Author:
Tom Orr
Tom Orr is a California-based writer whose talent and mental stability are of an equally questionable nature. His hobbies include ignoring trends, striking dramatic poses in front of his ever-tolerant wife and watching helplessly as his kids surpass him in all desirable traits.