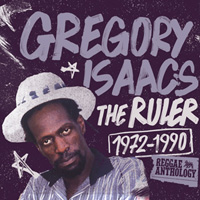 On October 24th, 2011, 17 North Parade commemorates the life and music of Gregory Isaacs with Reggae Anthology: The Ruler 1972-1990, an extensive 40-track collection of Isaacs' timeless hits, plus a special bonus DVD featuring the iconic reggae veteran singing feverously on stage at The Brixton Academy in 1984. The extraordinary set also features detailed liner notes and rare photographs of Gregory Isaacs during his prime.
Gregory Isaacs, dubbed "The Cool Ruler" for his trademark smoothness and wistful crooning matched with a rebel demeanor and dapper style, was a pivotal pioneer of lovers' rock music and also created some of the most timeless roots and dancehall anthems throughout his 40-year career.
During the 1970s and 1980s, he pumped out album after album with a massive string of hits, including "My Only Lover," "Let's Dance," "Soon Forward" and "Night Nurse." He even made a small cameo in the classic 1978 reggae film Rockers as the locksmith and later performed his song "Slave Master." He continued to tour across the globe and record throughout the 1990s.
This Reggae Anthology chronicles his most crucial hits from 1972-1990 and exudes the essence of this innovative lyricist and exemplifies why he is known The Ruler.
The collection contains 2 CDs and bonus DVD along with original deluxe packaging that includes extensive liner notes and exclusive archival footage and photos.
TRACK LISTING DISC 1
1. My Only Lover
2. Do You Ever
3. All I Have Is Love
4. Lonely Soldier
5. Love Is Overdue
6. Never Be Ungrateful
7. Ba Da
8. The Sun Shines For Me
9. Set The Captives Free
10. My Religion
11. Philistines
12. My Number One
13. Tumbling Tears6
14. Special Guest
15. Border
16. Storm
17. Mr. Cop (Extended Mix)
18. Sister Love (Extra Special)
19. My Time
20. Slave Master (Live)
TRACK LISTING DISC 2
1. Let's Dance
2. John Public
3. Soon Forward
4. Tune In
5. Top Ten
6. Permanent Lover
7. Front Door
8. If I Don't Have You
9. Night Nurse
10. Private Secretary
11. Let Off Sup'm
12. Private Beach Party
13. Victim
14. One Man Against The World
15. Rumors
16. Red Rose For Gregory
17. Big All Around featuring Dennis Brown
18. Jealousy featuring Jimmy Cliff
19. My Native Woman
20. Too Good To Be True
DISC 3 DVD
1. Live performance – Brixton Academy 1984
Author:
World Music Central News Department
World music news from the editors at World Music Central