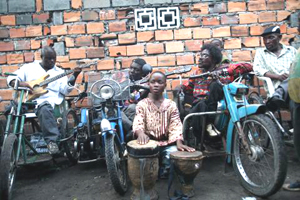 The film Benda Bilili! was released in American theaters on September 30. Benda Bilili! received standing ovations when it opened at Cannes in 2010 and was nominated for a César Award for Best Documentary. The film follows an unlikely group of musicians in Kinshasa, capital of the war-torn Democratic Republic of Congo. The band, Staff Benda Bilili — in English, "look beyond appearances" — is a group of street musicians composed of four paraplegics and three able-bodied men. The film's release will coincide with the Band's first ever United States tour.
French film directors Florent de la Tullaye and Renaud Barret encountered the extraordinary group in 2004 as they played their music on homemade instruments in the area around the Kinshasa Zoo and began documenting the band's struggles to survive, through music, in the volatile city. The result is an exuberant film that follows the band's journey from the streets to the world's stages, culminating in the 2009 release of their acclaimed album "Tres Tres Fort."
The core of the group is four singer/guitarists stricken with polio, who use customized tricycles to get around: Ricky Likabu, the eldest and a co-founding member of the band; Coco Ngambali, the band's composer and co-founding member with Likabu; Djunana Tanga-Suele, the member most disabled by polio, yet the official choreographer; and Théo Nsituvuidi, a bass player and soprano singer. Joining them is a young and entirely acoustic rhythm section, led by Roger Landu, a teenage prodigy on the satongé, a one-string guitar he designed and built himself out of a tin can.
"'Benda Bilili!' is not just a story about a group of musicians who overcome incredible obstacles to bring their music to the world," said Daniel Battsek, president of National Geographic Films for NGE. "It's about perseverance, passion and the human spirit, qualities we look for in any story National Geographic tells, be it in print or on the silver screen."
"Benda Bilili!" was written and directed by Renaud Barret and Florent de la Tullaye. The producers are Yves Chanvillard and Nadim Cheikhrouha of Screenrunner, and Florent de la Tullaye and Renaud Barret of La Belle Kinoise. Co-producers are O.L. Production and Studio 37. The editor is Jean-Christophe Hym. The film premiered at the 2010 Cannes Film Festival Directors Fortnight; it is a Best Documentary nominee for the 2011 César Awards, the national film award of France.
Staff Benda Bilili recordings available:
Author:
World Music Central News Department
World music news from the editors at World Music Central