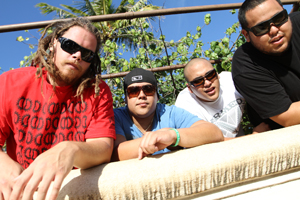 Hawaii-based reggae band has a new album titled Ways & Means and they will be touring throughout the continental United States, starting in October.
In less than a year, The Green has quickly emerged as one of the most exciting new reggae artists from the United States. Both critics and fans quickly took hold of their youth-infused modern roots reggae sound. Their self-titled debut album The Green was named "Best Reggae Album" of 2010 by iTunes and hit Billboard's 2010 Year-End Reggae Chart by selling over 20,000 copies.
The band is following up with their second album, Ways & Means, set to be released on October 25th on one of the leading reggae labels – Easy Star Records. The label is home to some of the most accomplished and progressive reggae artists, including the Easy Star All-Stars, John Brown's Body, Cas Haley, The Black Seeds, Ticklah, Tommy T, The Meditations, and more.
The Green consists of singer Caleb Keolanui, singer-guitarist JP Kennedy, singer-keyboardist Ikaika Antone, and singer-guitarist Zion Thompson. The four members of The Green take pride in the pop-burnished roots reggae style they've cooked. Four distinct voices, four sharp songwriting talents, masterful musicianship, and monster grooves add up to one exceptional band.
Tour Dates
Fri/Oct-07 – Las Vegas, NV – Pure Aloha Festival
Sat/Oct-08 – Santa Barbara, CA – Velvet Jones
Sun/Oct-09 – Orangevale (Sacramento), CA – The Boardwalk
Tue/Oct-11 – San Luis Obispo, CA – SLO Brewing Company
Wed/Oct-12 – Solana Beach (San Diego), CA – Belly Up
Fri/Oct-14 – Ft. Collins, CO – Aggie Theatre
Sat/Oct-15 – Denver, CO – Bluebird Theater
Sun/Oct-16 – Paonia, CO – The Paradise Theatre
Tue/Oct-18 – Salt Lake City, UT – Vertigo
Wed/Oct-19 – Boise, ID – The Reef
Fri/Oct-21 – Eugene, OR – WOW Hall
Sat/Oct-22 – Seattle, WA – El Corazon
Sun/Oct-23 – Portland, OR – Wonder Ballroom
Mon/Oct-24 – Bend, OR – Domino Room
Wed/Oct-26 – Santa Cruz, CA – Catalyst Atrium
Thu/Oct-27 – San Francisco, CA – Slim's
Fri/Oct-28 – Los Angeles, CA – The Roxy
Sat/Oct-29 – Santa Ana, CA – Yost Theatre
Tue/Nov-01 – Dallas, TX – HOB Cambridge
Wed/Nov-02 – Austin, TX – Antone's
Thu/Nov-03 – New Orleans, LA – HOB Parish
Fri/Nov-04 – Birmingham, AL – Zydeco
Sat/Nov-05 – Atlanta, GA – Masquerade – Hell Stage
Sun/Nov-06 – Jacksonville, FL – Jack Rabbits
Tue/Nov-08 – Orlando, FL – The Social
Wed/Nov-09 – Ft. Lauderdale, FL – Culture Room
Thu/Nov-10 – Vero Beach, FL – Filthy McNasty's
Fri/Nov-11 – Satellite Beach, FL – Sports Page
Sat/Nov-12 – Charleston, SC – Pour House
Sun/Nov-13 – Raleigh, NC – Lincoln Theatre
Tue/Nov-15 – Charlottesville, VA – The Southern
Wed/Nov-16 – New York, NY – Highline Ballroom
Thu/Nov-17 – West Chester, PA – The Note
Fri/Nov-18 – Baltimore, MD – The 8×10
Sat/Nov-19 – Cambridge (Boston), MA – Middle East
Sun/Nov-20 – Portland, ME – Port City Music Hall
Mon/Nov-21 – Clifton Park (Albany), NY – Northern Lights
Wed/Nov-23 – Rochester, NY – Water Street Music Hall
Author:
World Music Central News Department
World music news from the editors at World Music Central