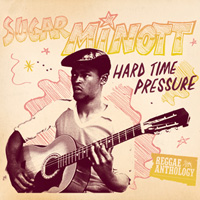 On October 18th, 17 North Parade will release Sugar Minott's Reggae Anthology: Hard Time Pressure, highlighting his illustrious recording career that bridged three major eras in reggae: from Studio One to lover's rock and to the digital dancehall era (where he earned the moniker Godfather of Dancehall).
The late singer, producer and sound-system engineer made an inevitable mark on the genre with over 60 albums and cherished anthems including "Herbsman Hustling," "No Vacancy," "Good Thing Going" and "Never Gonna Give Up Jah." The double-disc 36-track set is also accompanied with treasured live video footage of Sugar Minott performing at JapanSplash concert in 1986.
Check out a clip from Sugar Minott's Hard Time Pressure bonus DVD:
Born Lincoln Barrington Minott, Sugar possessed multiple musical talents. The Jamaican native was a prolific songwriter and singer and provided blueprints for the rise of the contemporary dancehall style, where he was equally influential as a producer and his extraordinarily popular sound system and company, Youthman Promotions, that helped launch numerous new djs and artists into the limelight. He worked with Little John, Junior Reid, Tenor Saw, Nitty Gritty, Garnet Silk, Tony Rebel and Johnny Osbourne (to name a few).
The collection contains 2 CDs and bonus DVD along with original deluxe packaging that includes extensive liner notes and exclusive archival footage and photos.
TRACK LISTING DISC 1
1. My Love Is True
2. Hard Time Pressure
3. River Jordan
4. Never Gonna Give Jah Up
5. Good Thing Going
6. Never Too Young
7. In The Residence
8. Babylon
9. No Vacancy
10. Ghetto-ology
11. Jah Jah Children
12. Man Hungry
13. Rome
14. The People Got To Know
15. Ghetto Youths
16. Loving Jah
17. Simple As That
18. Christmas Time
TRACK LISTING DISC 2
1. Lover's Rock
2. Sandy
3. Show Me That You Love Me Girl
4. You've Lost It
5. Penny For My Song
6. Now We Know
7. African Girl
8. All Kinda People
9. Easy Squeeze
10. Slice Of The Cake
11. Informer
12. Feel The Rhythm
13. Old King Cole
14. Buy Off The Bar
15. International Herb
16. Herbman Hustling
17. Devil's Pickney
18. Rub A Dub Sound
DISC 3 – DVD
1. Live in Concert filmed in Japan 1986
Total Running Time: 23:42
Author:
World Music Central News Department
World music news from the editors at World Music Central