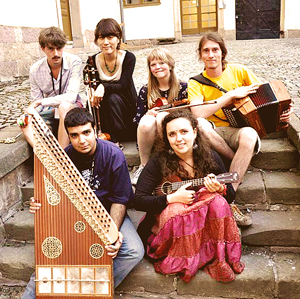 Between 4 and 15 October 2011, a selected group of Ethno Sweden participants are invited to come back after the camp to perform and participate in workshops in Sweden. In the first week of October, 6 musicians and 2 leaders are coming together for over 12 performances and workshops in schools and folk festivals.
Ethno is a summer camp for young folk musicians from all over the world. It started in Falun, Sweden 1990 as a collaboration between Concerts Sweden/JM Sweden and the famous Falun Folk Music Festival. Since 2011 Ethno is now arranged by Folkmusikens Hus in Rättvik.
Ethno is based on work shops where the participants are encouraged to share the musical tradition of their country and teach each other songs and tunes of their own culture. Participants could be instrumentalists or singers and play any kind of traditional music on any kind of instrument. There are professional musical leaders to help with arrangements and the teaching, but one needs to be prepared to be the teacher of his/her tune. All teaching and learning is by ear.
Musicians:
Luna Cottis, France (ukulele, voice)
Ward de Jonghe, Belgium (accordion)
Guro Nesheim, Norway (fiddle)
Jaber Jubran, Palestine (qanoon)
Julia Lönnqvist, Sweden (clarinet)
Axel Fagerberg, Sweden (percussion)
Leaders:
Jeanette Eriksson, Sweden (fiddle)
Peter Rousu, Sweden (guitar and bass)
More at: http://www.ethno.se
Author:
World Music Central News Department
World music news from the editors at World Music Central