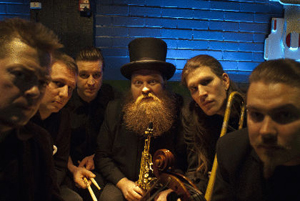 The popular Nordic Club Stage returns to WOMEX in 2011, offering delegates a final opportunity to discover the music of the Scandinavian region in broad variety before WOMEX moves on to the next location.
The Nordic Club will spotlight local artists from Denmark, Norway, Sweden, Finland and the Faroe Islands, running on all three Showcase Festival nights.
Altogether, the WOMEX Showcase Festival will feature five stages on three nights at the spectacular Koncerthuset offering maximum sound quality, plus a sixth stage at the daytime venue Forum Copenhagen for the more intimate WOMEX Daycases.
The Nordic Club at WOMEX presents:
– Alamaailman Vasarat (Finland)
– Basco (Sweden/Denmark)
– Dánjal (Faroe Islands/Finland/Sweden/Denmark)
– Farmers Market (Norway)
– Hazelius Hedin (Sweden)
– Johanna Juhola Reaktori (Finland)
– Ragnhild Furebotten (Norway)
– Sousou & Maher Cissoko (Senegal/Sweden)
– Tako Lako (Serbia/Denmark)
More details at http://www.womex.com
Author:
World Music Central News Department
World music news from the editors at World Music Central