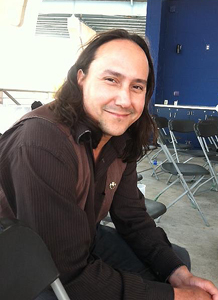 Over 50,000 people of all nationalities and cultures attended the 2011 Indian Summer Festival at the Henry Maier Festival Grounds on the Milwaukee shorefront from Sept. 9 – 11th. This was the 25th annual festival.
This festival is the largest American Indian festival in the United States. Organizers, planners and the committees work all year work year-round to pull the festival together. They employ more than 100 security personnel, volunteers, and they work with several hundred media representatives.
Tribal members from North and South America attended and participated in the events. More than six large stages featured continuous performances daily including Wade Fernandez, Richie Plass & the Flying Feather Band, Wayne Lavallee, Eagle and Hawk, Brule, and others.
This year's festival featured hundreds of exceptional American Indian musicians, artists, vendors, storytellers, cultural demonstrators and actors, food stands, veteran's parades, and one of the largest pow-wows and fireworks displays in the country. This year, Canadians had a strong presence in the musical performances featured on one of the many stages.The Indian Summer Music Awards was the highlight of the weekend. Native performer Joanne Shenandoah was the emcee.
Wayne Lavallee (Metis, from Vancouver BC) won two awards that evening; best Folk Song and Best Rock Song. The talented Canadian songwriter and singer paid his first visit to Indian Summer Fest and was delighted by the size and turnout. "I would love to return next year. It was a great time here- I made a lot of new friends and I am honored to share my music with America." LaVallee will be returning to the United States over the next few years to bring his music to wider audiences.
2011 Indian Summer Music Awards winners:
Best Contemporary Instrumental Song: "Rainbow Gratitude" by Joy Harjo
Best Country Song: "Dreamer" by Jimmy Lee Young
Best Folk Song: "Trail of Tears" by Wayne Lavallee
Best Hip Hop Song: "Many Faces" by Lady Xplicit
Best Native American Flute: "Unconquered" by Injunuity
Best Native Spirit: "Wannabe" by Sun Shadows Ensemble
Best Pop Song: "Mother Earth Father Sky" by Jimmy Lee Young
Best Rock Song: "Big Country" by Wayne Lavallee
Best Spiritual Song: "Grandfather" by Wind Spirit Drum
Best Traditional Instrumental Song: "Amazing Grace" by Golana'
Best Traditional Drum Song: "A Million Miles for You" by Northern Cree
Best Traditional Vocal Song: "Love" by Kevin Yazzie