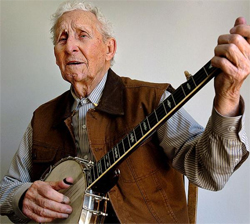 Many in the American bluegrass and country music community are mourning the death of Wade Mainer. Called the Grandfather of bluegrass, the famed banjo player and singer from the Blue Ridge mountains region of North Carolina died at home September 12, 2011 in Flint, Michigan. Mr. Mainer suffered from congestive heart failure. He was 104 years old.
Born April 21, 1907 near Weaversville, North Carolina, Mr. Mainer came from a humble background, spending his youth living in a log cabin in the Blue Ridge Mountains. Inspired by his father's singing and a community ripe with a wealth of old mountain songs, Mr. Mainer learned to play the banjo by practicing on instruments from the musicians at local square dances. In 1934, after a series of cotton mill jobs, Mr. Mainer joined his brother's band J.E. Mainer's Mountaineers.
In 1937, Mr. Mainer formed his own band called the Sons of the Mountaineers with guitarists Jay Hugh Hall and Clyde Moody and fiddler Steve Ledford. The Sons of the Mountaineers would add such musicians as Tiny Dodson, Red Rector, Jack and Curly Shelton and Fred Smith. Performing on the radio and recording for the RCA's subsidiary label Bluebird Records, the group had their first hit with the 1939 track "Sparkling Blues Eyes." The group would go on to record such bluegrass standards as "Maple on the Hill," "Take Me in the Lifeboat" and "Riding on that Train 45." Mr. Mainer recorded some 165 songs from 1935 to 1941.
Known for his distinct index finger and thumb picking style of banjo playing, Mr. Mainer created a tight, neat sound, bringing the banjo into the forefront and inspiring a generation of bluegrass musicians. He would go on to record such songs as "Little Maggie," "North Carolina Moon" and "Ramblin' Boy." His discography also includes such albums as Soulful Sacred Songs, Old Time Songs, Old Time Banjo tunes and String Band Music.
Mr. Mainer received a 1987 National Heritage Fellowship award from the National Endowment for the Arts, a 1996 Michigan Heritage Award, as well as a Michigan Country Music Association and Services' Lifetime Achievement Award. He is also an inducted member of the Michigan Country Music Hall of Fame.
Mr. Mainer is survived by his wife Julia, who had a musical career of her own performing under the name of Hillbilly Lilly, sons Frank, Kelly and Randall, daughter Polly and two grandchildren and three great-grandchildren.
Funeral and remembrance ceremonies have not yet been announced.
Author:
TJ Nelson
TJ Nelson is a regular CD reviewer and editor at World Music Central. She is also a fiction writer. Check out her latest book, Chasing Athena's Shadow.
Set in Pineboro, North Carolina, Chasing Athena's Shadow follows the adventures of Grace, an adult literacy teacher, as she seeks to solve a long forgotten family mystery. Her charmingly dysfunctional family is of little help in her quest. Along with her best friends, an attractive Mexican teacher and an amiable gay chef, Grace must find the one fading memory that holds the key to why Grace's great-grandmother, Athena, shot her husband on the courthouse steps in 1931.
Traversing the line between the Old South and New South, Grace will have to dig into the past to uncover Athena's true crime.