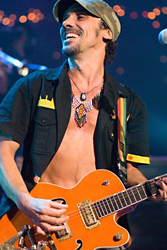 Global music sensation Manu Chao announced that he will be performing a free "Alto Arizona" concert in collaboration with the National Day Laborer Organizing Network to protest the anti-immigrant policies that have made Arizona a "capital of prejudice." The will take place at West Grant and S. 2nd, Phoenix, Arizona (across the street from El Portal Restaurant) on September 21, 2011 at 7:00 pm.
The multi-lingual and globe-spanning musician will bring his chart-topping music to Phoenix in a rare performance offered for free in support of the community-level human rights work of the Barrio Defense Committees that formed in the wake of the passage of SB 1070.
Manu Chao states, "For the past year, we've carried the people of Arizona in our hearts as we witnessed them suffer under such ignorant laws. We'll be proud to perform with the community to show that love can conquer hate."
Through his music, Chao has originated and elevated global protest pop with a style of music that could be at home anywhere in the world.
"We are pleased Manu Chao will join the struggle of humble and persecuted migrants in Arizona. His music is universal and constitutes a direct repudiation of intolerance and the systematic persecution of migrants not just in Arizona but beyond borders," explains Pablo Alvarado, Director of the National Day Laborer Organizing Network. "We're honored to partner on an Alto Arizona concert to help turn the tide on hatred. And Manu Chao's music is a valuable reminder that the struggle for human dignity is not just fought for, it's also celebrated."
Buy Manu Chao's recordings:
In North America: Baionarena, Clandestino, La Radiolina, Radio Bemba Sound System, Politik Kills Remix EP, Proxima Estacion: Esperanza, Radio Bemba Sound System Live, Baionarena (Limited Edition DVD-style packaging with photobook, import)
In Europe: Baionarena Digipack, La Radiolina, Proxima Estacion: Esperanza,
More information can be found at www.altoarizona.com
Author:
World Music Central News Department
World music news from the editors at World Music Central