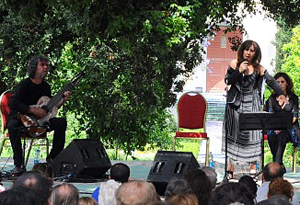 One of the Fes Festival of World Sacred Music's great strengths, apart from the larger, spectacular concerts in the Bab Makina and the Bab Boujloud, lies in its programming of superb international and local spiritual musical traditions rarely presented in world music festivals – in more intimate open-air settings. Although there were a couple of days of seasonally unusual spotty rain showers, most all of the programming was on schedule, or nimbly and efficiently moved to indoor venues.
One of the medina's loveliest venues is in the plaza of the Batha Museum of antiquities. Under the boughs of the mammoth Barbary Oak tree, hundreds of musical years old and springing from the Andalusian garden below the plaza, scores of musicians performed over several afternoons. It was also the venue that underscored one of the major tenets of the festival: that there are unifying values in the world's diversity of spiritual traditions and that a true, universal community of deeply felt and hoped for peace is shared.
Among the Batha Museum top three favorites: Sardinia's Elena Ledda Quintet and the polyphonic Sardinian men's choir, Su Cuncordu 'E Su Rosario de Santu Lussurgiu who sang centuries-old sacred songs from her deeply researched album "Cantendi a Deus." Evocative of the wild beauty high in ancestral, Mediterranean mountains and the music sung there in small chapels during religious events, there was a special moment of bliss during the concert. Just as Ms. Ledda and singers rang forth their 'Santa Maria,' echoes from the 5 pm call to prayer in the medina joined them in distant harmonies.
One of the most enjoyable musical encounters occurred between mellifluous Françoise Atlan with her Judeo-Berber roots and Moneim Adwan, singer and oud-player from Gaza, both accompanied by Bijan Chemirani on frame drum percussion. Theirs was a brilliant exploration of shared intersections between the Maghreb and the Middle-East in traditional and popular airs, liturgical texts, tarab and duende – the two emotions associated with Andalusia, all sung in Arabic, Hebrew, and Spanish.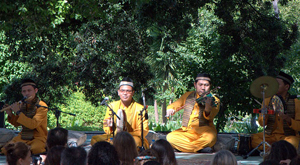 In their first visit to Fez, Indonesia's Javanese Syubbanul Akhyar Ensemble, dressed in saffron yellow, were seated across the museum's outdoor stage and presented the songs of the Hajir Marawis of Cirebons, a most unusual mix of Arab and Indonesian sounds. These musicians are tradition-bearers of South-East Asian Sufi music that blossomed during the apogee of medieval Sufism in the 11th and 12th centuries. Arab merchants from Yemen's Hadramat Valley were among the first to spread their popular Sufism in Indonesia.
With the twittering of birds in the late afternoon's sunlit plaza during this last museum concert, we were transported to another time and land, by the musicians on hajir double-skinned drums, small marawis tamborines, dumbek, flute, violin, oud, and Yemeni gambus lute. Their fervent voices proposed, "If paradise existed somewhere and if there were a world where everyone, all races were able to be happy, dancing together in peace and harmony, with the same heart's rhythm, that of love for mankind and for the Prophet of Peace. Our salutations unto Him."
Medina Nights, Sufi Nights
Despite rain cancellations, at least one wonderful solo acoustic concert took place in the Dar Mokri, a palace built at the turn of the 20th century, by Ethiopia's master beguena player, Alemu Aga. In the opulent interior of one of the main palace halls, Mr. Aga, coaxed forth the ultra-quiet buzzing resonances from the beguena lyre, also known as King David's harp. His sung psalms were radiant with meditative serenity, and the air was as refreshed and cleansed by the gentle rain as his sacred invocations.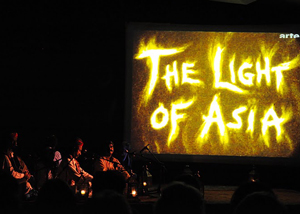 The eagerly awaited concert screening of Franz Osten's silent 1925 cinematic masterpiece, "The Light of Asia," depicting the early life of Buddha, was so well programmed under Alain Weber's direction. Great musicians from the Manghaniar and Langa of Rajasthan, seated below the screen, recreated live the original folk-based music once played long ago as film accompaniment, from the clattering of royal horsemen, to the sighs of longing, and dramatic moments of enlightenment in the story of Siddhartha Gautama.
Over many evenings just before midnight on the open-air grounds of the Dar Tazi, a former sultan's palace, several spirited performances by a fantastic representation of Sufi brotherhood groups from Morocco, Egypt, Russia, India, capped off the night in the long festival tradition known as "Sufi Nights." Sitting on carpets spread over the grounds, audience members would joyfully rise, sing and dance together arm-in-arm, as the concerts reached feverish and accelerated pitches in praise of The Prophet or during mystical Sufi songs known among many countries such as the ever beautiful qawwali "Chhap Tilak."
Fortuitous Meeting in Fes: Cherif Brahim Tijani
Part of Morocco's great charm, interest and attraction lies with her people. We met the young scion of the great Tijani Brotherhood, Cherif Brahim Tijani. It was his great grand-father the venerable Cheikh Ahmed Tijani, who inspired the spread of Sufism in sub-Saharan Africa and all over the world.
Youssou N'Dour's concert was a tribute to this brotherhood. In his press conference, when urged by the Moroccan radio Chaine-Inter's incisive journalist/producer Aziz Hachimi, "Tell us in one word what Fes signifies for you, Mr. N'Dour? His answer: "Fes Tijani." And, in the medina neighborhood souks surrounding Cheikh Ahmed Tijani's mausoleum, business cards of the redolently aromatic Univers des Herbes (the local Berber pharmacy) and of a great traditional tailor of jellabas and robes, Abdelaziz Cohen, proudly proclaim their addresses as "next to Sidi Ahmed Tijani."
Cherif Brahim is an intriguing Sufi leader for the future. Although still young, he is well-versed in the cultural and spiritual history of the Tijani order, and quietly ponders his forthcoming responsibilities and hopes for Fes and Morocco. With a keen intellect and wisdom far beyond his age, he was in constant demand for interviews about his pride in the festival. He is well worth seeking out for greater knowledge about Sufism and its profound significance in Islam.
The Fes Crafts Training and Qualification Center
During the festival, we visited the phenomenal new training center complex, inaugurated in 2009. With over 8,000 square meters of contemporary buildings and gardens, the center is known as the "Centre de Formation et de Qualification dans les Métiers de l'Artisanat," within walking distance of the Batha Square. Their mission focuses on the preservation and enduring creation of the glorious arts witnessed daily throughout Fes and Morocco as "la beauté quotidien." Apprentices in this vocational school, aged 15 – 30 years, are selected on the basis of exceptional talent to study under Fes' greatest crafts masters.
The center's expertise comprises artisanal genius in all the natural resource materials of the country: wood carving (decorative and musical instruments); weaving; earth clay (zellij tile mosaics, plaster carvings, pottery); metalworking in bronze, silver, and copper (gigantic hanging chandeliers weighing tons, intricate lamps, grillwork and jewelry); vegetal-fiber based furniture; and fine leatherworking from elegant saddles to watch-bands, and purses and wallets, commissioned by high-end European fashion houses. There are two showrooms on the ground floor, filled with incredibly priced samples for sale to the public.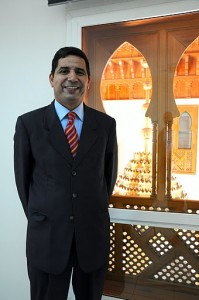 We met with the center's director, Ahmed Aboujaafar, whose enthusiastic and very careful management planning within the region's first apprenticeship program for artisans promises a greater, ensured socio-economic and cultural future for Fes and Morocco. The center has recently entered into a cultural exchange program with the UK under the auspices of Prince Charles. And will soon open another center in Casablanca. Mr.Aboujaafar has great hopes for and seeks to encourage increased international exchange programs.
The center was established to halt the decline in artisanal training since the beginning of the last century. Craftwork provides work and income to more than 53,000 artisans and a living directly or indirectly to more than 260,000 people in Fes, or 27 percent of the city's total population and 70 percent of the media's population. It is a critical institution. To have visited the training ateliers and watched the crafts men and women at work was essential to a deeper appreciation of Fes' spiritual environment – especially during the festival.
According to Mr. Aboujaafar, a team of the center's master craftsmen of arabesque zellij, carved woodwork and plaster are already at work here in New York in the Metropolitan Museum of Art. In early November this year, the museum will unveil a whole Moroccan royal courtyard as centerpiece in the Islamic Arts halls. It will be breathtaking in visual splendor and the scope of its ingenuities, a true homage to the arts and culture of Fes.
The mark of a superb festival must lie in its capacity to make one long to attend the next edition, to seek answers to lingering questions long after its conclusion – especially about Sufi symbolisms embedded in the ancient decorative arts of Fes. To wish to experience once again the extraordinary beauty of Fes' spiritual culture as it welcomes musicians and visitors from far and near, now remains part of a supreme memory.
Read Part I:
Fes Festival of World Sacred Music 2011. Part I: The World's Spiritual Glories in the Medina