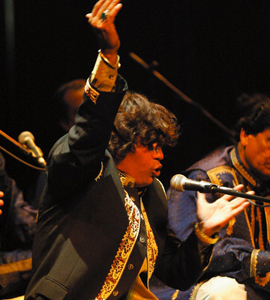 The premature passing of Nusrat Fateh Ali Khan in 1997 robbed the world of a truly outstanding vocalist, a veritable musical deity whose qawwali singing was so spiritually charged that it rendered most of his contemporaries, east and west, pallid by comparison.
The new qawwali torchbearer, Faiz Ali Faiz, the seventh generation of his family to practice the Sufi song form, not surprisingly says he's honored to be considered rightful successor to the maestro. But he adds that with that comes a huge responsibility. "I think it is not an easy job," he indicates via an interpreter. "Rather it puts one in a very challenging position. Wherever you go, people come with great expectation for your performance."
Nusrat anointed Ali Faiz, now in his late forties, as a potential heir when he was still a young man, although he never actually taught him. Ali Faiz's teachers, Muhammad Ali Faridi and Abdur Rahim Faridi, were contemporaries of "Khan Sahib's" father and uncle. The pupil established his own qawwali group in 1978, at a time when Nusrat Fateh Ali Khan (NFAK) was attaining superstar status in Pakistan. "Besides live performances, his pre-recorded cassettes were becoming a craze … that was the time when I started getting inspiration from his style of singing. There is not much distance between Faisalabad, native city of NFAK, and Lahore, my home city. Many times I had the honour of performing before NFAK on the same stage. Later I attended his concerts. Though I learnt qawwali music from different maestros, I never felt shy in admitting that my total inspiration is from Ustad Nusrat Fateh Ali Khan."
Ali Faiz was particularly impressed by the legend's sargam/solfa singing, in which each syllable corresponds to a scale degree. Also by Nusrat's ability to render musical notes with speed, weaving different patterns (taan) and his use of different rhythmic patterns (layakari). "I tried to learn as much of these characteristics of music as one can," he says. According to aficionados, Ali Faiz sings in similar tone of voice and with the same expansive abilities as his distinguished mentor. "The singing style of NFAK has influenced me so thoroughly that it is impossible for me to develop my own style," he candidly admits. He sings many of Nusrat's hit numbers, such as 'Akhiyaan Udeekdian', 'Ali Maula', 'Jana Jogi De Naal' and 'Allah Hu'. Ali Faiz also does a killer rendition of 'Mustt Mustt', a song that Western club audiences are familiar with through beefed up versions put out by Michael Brook and Massive Attack.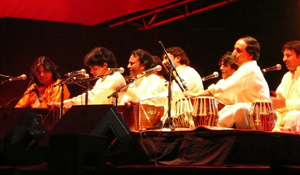 Ali Faiz is even following the footsteps of his great predecessor in terms of involvement in cross-cultural collaborations. It started six years ago with Qawwali-Flamenco, when he explored the musical links between two transcendental traditions in the company of flamenco singers Miguel Poveda and Juan 'Duquende' Cortes and guitarist Juan 'Chicuelo' Gomez. "It was a wonderful experience," says Ali Faiz. "We had joint concerts all over Europe and North Africa." The popularity of Qawwali-Flamenco paved the way for Qawwali-Gospel, a collaboration between Ali Faiz and his ensemble and American pianist/singer Craig Adams and the Voices of New Orleans. "Gospel singers use heavy rhythm while in qawwali you know we have only a pair of tablas, but spirituality is a common factor in both the singing," Ali Faiz observes. "One can find always some notes which are common in two different genres of music. Making base on those common notes, I always try to co-create out of collaboration, but feedback from the listeners is the criteria of our success or failure."
The singer describes his 2009 alliance with France's Titi Robin Quartet, which yielded the album Jaadu (Magic), as the most rewarding to date. "Although the musicians come from different backgrounds and are playing a variety of instruments, the whole music is one entity. Titi is a versatile musician. He produced some original compositions and we worked together to finalise the project with traditional poetry in the style or framework of qawwali." Ali Faiz's most recent cross-genre excursion came last June at the Festival d'Essaouira in Morocco, where he worked with the mystic singers of Issaoua de Meknes. "We gave two concerts — that was also an interesting experience."
Before concerts Ali Faiz prays, to invoke the Sufi saints for their support. "Warming up the throat by singing with harmonium is also an essential part of preparation," he adds. He says he also makes a point of "clarifying some of the finer points" with group members. "In my style of qawwali, ninety-five per cent of the performance is improvisation-based — the rest is predetermined."
Faiz Ali Faiz believes qawwali has helped improve the image of Islam around the globe, especially in the United States. "Qawwali presents an image of Islam that is quite different from orthodox Islam. Politicians everywhere stress the importance of interfaith dialogue and our efforts of cross-cultural collaborations with musicians of different countries is also a manifestation in that regard."
• The above interview first appeared in Rhythms, Australia's only dedicated roots music magazine, for which the author is World/Folk correspondent.
Author:
Tony Hillier
Tony Hillier is based in Cairns in far north Queensland, from where he has been actively involved in all areas of the music industry in Australia for the past 25 years, primarily as a journalist, writing for national publications such as the Weekend Australian and Rhythms magazine (for which he is World Music & Folk correspondent), and performing locally, nationally and internationally with the bands Kamerunga and Snake Gully. He has also presented and produced World Music and Folk music programs for ABC Far North, Port Douglas Radio and 4CCR-FM, netting a CBAA Best Specialist Music Program Award with the last-named for a documentary on flamenco. Before coming to Australia, he was a racing journalist of some repute in the UK, where he wrote a column for the London Evening Standard under the nom-de-plume of Ajax.