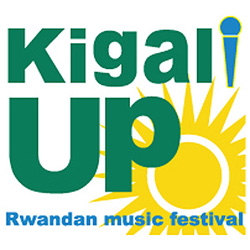 On September 10, 2011, Rwandans will be able to experience a Canadian-styled festival that will feature African musicians from a broad array of genres including blues, folk, reggae, rap, and more. The festival, known as KigaliUp!, is coordinated by Calgary Folk Festival artistic director Kerry Clarke and Rwandan "world blues" musician Mighty Popo.
The festival is Mighty Popo's dream come true. He wanted to put together a world-class outdoor music festival, complete with the jam sessions that make Canadian festivals so distinctive, in his native land, Rwanda.
"Musicians asked me to help them whenever I would go back to Rwanda. The more I went there, the more I realized that Rwanda was ready for that kind of help," the crack guitarist and Juno Award winner explains. "When I help anybody, I want that help to be sustainable, to reach more than just one person. A festival seemed like the ultimate way to help both Rwandan artists and develop the culture and the economy."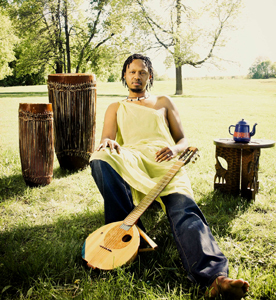 KigaliUp!, the festival Popo and a myriad of Canadian festival pros and industry insiders founded, will showcase this ready and willing Rwanda on September 10, 2011 in one of the capital Kigali's green, leafy parks. In bringing together urban upstarts, tradition bearers, and established international artists-and getting them to improvise together on one stage. KigaliUp! was inspired by the Canadian approach to outdoor festivals; by their musical spontaneity, sense of community, and positive impact on their host areas.
KigaliUp! will feature from local heroes Makanyaga Irangira, Sophie Nzayisenga and Holy Jah Droves to Internationally-renowned artist Lokua Kanza to Afro-Canadian artists Mighty Popo, blues maven Shakura S'Aida and hip-hop artist Shad.
"When Popo first shared his dream with me," recalls Kerry Clarke, artistic director of the Calgary Folk Festival and KigaliUp! co-conspirator, "all I could think about was logistics. Then I went to Rwanda and was amazed. It's lush, green, and lovely." Moreover, the capital, Kigali, had the perfect spot for a festival.
Though the kind of outdoor festival familiar to music lovers across North America doesn't exist in the region, Popo and Clarke discovered avid local support, and many local analogues that made the Canadian folk festival model a good fit.
These parallels shaped Popo's life as a young Rwandan refugee in Burundi. Popo grew up sharing guitar licks and tips with a community of like-minded players, dashing from house to house to trade new discoveries. After immigration took him far from home, he stumbled delightedly on a similar vibe as an artist on the Canadian festival circuit. At "workshops" (the on-the-fly jam sessions that bring diverse performers together at Canadian festivals), Popo got a chance to learn from and savor the artistry of very different musicians, from indie rockers to hip hop MCs.
To Popo, these workshops suggested a way to remedy the lack of cultural infrastructure many Rwandan artists face-especially those putting their own spin on age-old traditions. Though Kigali and Rwanda's other urban centers are home to a lively dancehall-inflected hip hop and R&B scene, artists often use playback (recorded backing tracks) instead of live bands. More roots-oriented performers are completely left out in the cold.
Though Rwanda has several rich veins of tradition-stirring polyphonic Batwa songs, complex Bahutu rhythms, Batutsi pastoral melodies-getting a chance to hear them can be a challenge for visitors to the country. "If you wanted to hear some traditional music, you'd be looking for a long time in the city," notes Popo. "It's there in the villages. And often at weddings you see traditional dancing and singing. But in urban settings like bars or clubs, you won't see it at all, period. Not even other kinds of urban dance music."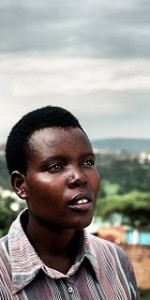 KigaliUp! will give Rwandan music a new, central platform, and give Rwandan musicians fresh exposure to international performers and their approaches. Popo, Clarke and company hope to help musicians like Sophie Nzayisenga, an inanga (traditional zither) performer who learned her art from her father, one of Rwanda's most highly respected traditional musicians.
"Sophie has revived the ancient practice of women playing this instrument, and she's really pushing it forward, though she's also rooted in her region's style of playing," explains Popo. "She needs to be heard."
Artists like Nzayisenga are only one part of the Rwandan community KigaliUp! is engaging. The festival strives to enhance the local economy, through tourism and local involvement at all levels.
Along with Rwandan musical talent, hotels, restaurants, artisans, tour operators, and local dealers in everything from sound equipment to fencing stand to benefit from KigaliUp! and the visitors it will attract to the region. Tourists will gain as well: An unheralded success story, Rwanda's increasingly stable economy and political peace mean royal palaces and coffee collectives, mountain gorilla sanctuaries and volcano parks are just waiting for visitors to discover.
Building on local concepts of mutual aid, the festival is working to bring young people into the fold, as volunteers, professional staff, and vendors, boosting skills and enthusiasm as well as incomes. "We don't want to simply plop down a Canadian-style festival in Kigali," Popo says. "We want to encourage local people to build it. It is their festival. They need to shape it."
Author:
World Music Central News Department
World music news from the editors at World Music Central