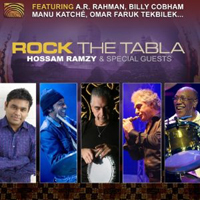 Hossam Ramzy and Various Artists
Rock The Tabla (ARC Music, 2011)
So rarely in life we are given exactly what we want. For musicians those dream collaborations are just that – dreams. Well, Hossam Ramzy , Egypt's Ambassador of Rhythm, got a whole CD worth of those dream collaborations for his Rock The Tabla CD out on the ARC Music label. And, we're taking collaborations with the likes of A.R. Rahman, Billy Cobham, Manu Katche, Omar Faruk Tekbilek, Jimmy Waldo, Chaz Khoshi, Phil Thornton, John Themis and Joji Hirota. That's a whole lot a dreams come true. If the collaborations are anything to go by Mr. Ramzy must have a fairy godmother in his closet or something.
Starting out his early career as part of England's 70s jazz scene with performances with Andy Sheppard and Geoff Williams, Hossam Ramzy began to explore his own Egyptian drumming roots and a flavored Middle Eastern repertoire with Peter Gabriel on the recordings of Passion and Us. Working with the likes of Joan Armatrading, Mari Wilson, Cheb Khaled, Rachid Taha and Faudel, as well as teaming up with Arabic musicians for Robert Plant and Jimmy Page on the reunion recording No Quarter – Unledded, Mr. Ramzy has kicked the music world square in the rhythm section.
His film music credits are just as impressive with work on such movies as Stargate, The Saint, The Hunchback of Notre Dame, Stealing Beauty and Prince of Persia: The Sands of Time. He also has a 2007 concert with Chick Corea, Isaac Hayes and Mark Isham to his credit and has worked on Shakira's She Wolf as an arranger and musician.
Rich and lushly worked, Rock The Tablaa opens with a combo of styles incorporating flamenco, Arabian and Greek influences with a dash of Cairo street music thrown in for good measure on "Arabantana" before swinging into the slick and sassy "Cairo to India" with A.R. Rahman at the keyboards. Arabic flash with jazzy overtones "Six Teens" hits the spot with Billy Cobham on drums, Mr. Ramzy on Egyptian and world percussion, Ossama El Hendy on keyboards, sequencers and bass, Phil Thornton on e.bow guitars and Mohammed Ali on electric violin and oud.
Other goodies include the sizzling "Ancient Love Affairs" with Elhamy Ezzat on vocals, Jimmy Waldo on keyboards, sequencers and bass, Tim Pierce on guitar, the Hassm Ramzy String Ensemble as well as Mr. Ramzy himself, the kick ass percussion track "Shukran Arigato" with Mr. Ramzy and Joji Hirota and the West African inspired "Bluesy Flusey" with Mohammed Ali on electric violin and Sayed Al Hosseiny adding that special something on mizmar. "Sawagy" is truly inspired with vocals by Houda El Sombaty and some flash provided by Abdalla Helmy on nay. "Dom & Doumbia" is just as spectacular with Nahini Doumbia on bjimbe, djundjun and African conga against Mr. Ramzy's Egyptian percussion on this rhythm saturated stunner. Dipped in swirling colors of keyboards, Egyptian percussion, some incendiary guitar lick and Omar Faruk Tekbilek on mizmar, title track "Rock the Tabla" … well, it just doesn't get any better than this.
Rock The Tabla is crazy good.
Buy the album or MP3 downloads:
Author:
TJ Nelson
TJ Nelson is a regular CD reviewer and editor at World Music Central. She is also a fiction writer. Check out her latest book, Chasing Athena's Shadow.
Set in Pineboro, North Carolina, Chasing Athena's Shadow follows the adventures of Grace, an adult literacy teacher, as she seeks to solve a long forgotten family mystery. Her charmingly dysfunctional family is of little help in her quest. Along with her best friends, an attractive Mexican teacher and an amiable gay chef, Grace must find the one fading memory that holds the key to why Grace's great-grandmother, Athena, shot her husband on the courthouse steps in 1931.
Traversing the line between the Old South and New South, Grace will have to dig into the past to uncover Athena's true crime.