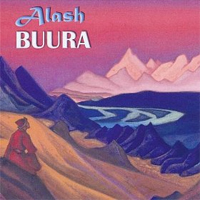 Alash Ensemble
Buura (CDBY, 2011)
Okay, I just admit a little quirk of mine right here – I can't help myself when it comes to throat singing. I'm simply fascinated. So you can imagine my surprise and delight as I was flipping through my stack of reviews CDs and found Burra by the Alash Ensemble. With previous recordings the self-titled Alash, an appearance on 'Jingle All the Way' with Bela Fleck and Alash Live at the Enchanted Garden, Buura steeps the listener into Alash Ensemble's brand of Tuvan music. These musicians aren't simply content with the past but instead take the Tuvan music tradition to new directions with the additions of guitar and udu. The ensemble looks to blend other musical influences into their work and "like a healthy tree which deepens its roots in the earth while reaching for the sun."
Alash Ensemble is made up by vocalist, byzaanchy, chadagan, igil and xomus player Nachyn Choodu; vocalist, igil, doshpuluur player and guitarist Bady-Dorzhu Ondar; vocalist, doshpuluur, igil player and guitarist Ayan-ool Sam; and vocalist, kengirge, shynggyrash, shoor, murgu and xomus player Ayan Shirizhik.
Whether it's the infectiously charming opening track "Yrlaazhyyly or Let's Sing" or the thrumming romp of "My Throat, the Ediski" or the brightly rhythms worked on "Ondar Girls," Buura is a treasure trove of the charm and grace of Tuvan folk music. And the throat singing is fabulous!
"Xomustar," featuring the Tuvan jaw harp, is infectious fun, but its "Xongnum Bile Salyp Berein" that really shines with an igil solo and vocals by Bady-Dorzhu Ondar. And who could resist a love-inspired track called "Tractor Drivin' Woman" with the lyrics "When I fist saw you plowin' a filed on your tractor, Your clothes ewer oily and smelled like gas, But your face was shining like the sun." It is indeed a sweet love song. Other Alash Ensemble gems include the exotic "Kosh-oi and Torgalyg," "Sygyt in the Style of Maxim Dakpai" with such stunning throat singing by Ayan-ool Sam that it actually raised the hair on the back of my neck and the almost bluesy "The Reindeer Herder's Song."
Buura is a bold, beautiful and an inspired listen into Tuva.
MP3 download
CD:
Author:
TJ Nelson
TJ Nelson is a regular CD reviewer and editor at World Music Central. She is also a fiction writer. Check out her latest book, Chasing Athena's Shadow.
Set in Pineboro, North Carolina, Chasing Athena's Shadow follows the adventures of Grace, an adult literacy teacher, as she seeks to solve a long forgotten family mystery. Her charmingly dysfunctional family is of little help in her quest. Along with her best friends, an attractive Mexican teacher and an amiable gay chef, Grace must find the one fading memory that holds the key to why Grace's great-grandmother, Athena, shot her husband on the courthouse steps in 1931.
Traversing the line between the Old South and New South, Grace will have to dig into the past to uncover Athena's true crime.