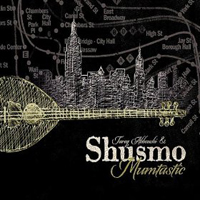 Tareq Abboushi & Shusmo
Mumtastic (Shusmo.com, 2011)
Palestinian pianist and buzuq player Tareq Abboushi along with his co-conspirators that make up Shusmo have turned Arabic music inside out with their release of Mumtastic. To clue listeners into the group's style "shusmo" means "whatchamacallit" in Arabic and "mumtaz" is Arabic for excellent. And indeed descriptive terms for the music on Mumtastic are hard to come by as this quintet's tears through the ground rules of genre, fusing Arabic music with jazz, funk and sassy Latin grooves.
Mr. Abboushi explains Mumtastic, "What I'm working towards is an alternative Arabic music. Now, you're either sitting listening to classical music or you're dancing to pop in a club. And there's too little in between. We need something that works like Stevie Wonder, that has soul and musicality and that you can also move to."
Finding that in between Mr. Abboushi on buzuq, percussion and vocals, Lefteris Bournais on clarinet and zurna, Hector Morales on trums, congas, cajon and timbales, Dave Phillips on bass and Zafer Tawil on riq, durbakkeh, cymbals and additional percussion tear through any of the standard expectations of an Arabic music CD with wild abandon. Opening with a dishy funk veneer fashioned out of buzuq, clarinet and electric guitar on "Longa Nakreez" before lapsing into the almost classical and elegantly moody "The Time It Takes," Shusmo enthrall listeners with a complex, labyrinthine musical landscape that's hard to resist.
Absorbing Latin rhythms "Georgina + 2″ is a knock out track in a heady mix of congas, timbales and riq with buzuq lines that sound like they came off Carlos Santana." "Samba for Maha," "Bayatak" with its fat funky sound and the lushly exotic "Pickles" are all equally delicious. The final track "Dal'ona" is simply a triumph of sheer hipness drawn with sassy buzuq lines, dashes of clarinet, meaty bass and kick ass percussion.
Mr. Abboushi gets personal with "The Wall," exploring in musical terms the state of affairs surrounding the construction of the wall Israel is constructing between themselves and Palestinians. With guest trumpeter Amir Elsaffar, "The Wall" is emotionally charged track, expressing in turns tension and sweetness within the intersecting buzuq and trumpet lines.
Mr. Abboushi explains "The Wall," this way, "It is easy to hate the wall that has been built by Israel imprisoning Palestinians and separating them from each other, their land, their schools, their work, and even their sunset. But when you see Palestinian workers taking part in the construction so they can support their families, what type of emotions will you have then? Or when you see Palestinian children laughing and enjoying their new slide created by the slanted roof of their home, which was demolished by the Israeli government, how can you express that mixture of emotions?"
Mumtastic unearths that in between space where Arabic music rises up and discovers its inner Stevie Wonder coolness.
Author:
TJ Nelson
TJ Nelson is a regular CD reviewer and editor at World Music Central. She is also a fiction writer. Check out her latest book, Chasing Athena's Shadow.
Set in Pineboro, North Carolina, Chasing Athena's Shadow follows the adventures of Grace, an adult literacy teacher, as she seeks to solve a long forgotten family mystery. Her charmingly dysfunctional family is of little help in her quest. Along with her best friends, an attractive Mexican teacher and an amiable gay chef, Grace must find the one fading memory that holds the key to why Grace's great-grandmother, Athena, shot her husband on the courthouse steps in 1931.
Traversing the line between the Old South and New South, Grace will have to dig into the past to uncover Athena's true crime.