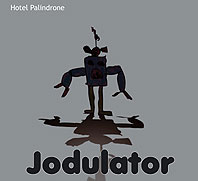 The Association of German Record Critics' has given the German Record Critics' Award to Austrian band Hotel Palindrone for its album Jodulator, as a recording of exceptional artistry. Jodulator was selected as one of the "Quarterly Best" of new releases for the third quarter 2011.
Jodulator 3000 (Pocket Sized Sun Records) features Hotel Palindrone's adventurous and fresh interpretations of European roots music and their own Austrian folk tradition along with many self penned tunes.
There is a science fiction theme to the album. Jodulator 3000 is a glimpse into the future: 1000 years from now human kind and its music have fallen into oblivion. The world's soundscapes are dominated by a new mighty species: highly intelligent multidimensional cyborgs known as Jodulators.
Hotel Palindrone's line-up includes: Albin Paulus – clarinet, jew's harp, bagpipes, bombarde, vocals & yodelling; Stephan Steiner – 5-string fiddle, nyckelharpa, hurdy-gurdy, diatonic accordion, vocals; John Morrissey – Valisette, bouzouki, guitar; Peter Natterer – Bass, saxophone, piano, ocarina, blofeld synthesizer, beat-boxing
Guest musicians on the album: Robin Gillard – Drums on track 9, drumloops and clarabuka on track 4; Ian Smith – Deep voice on tracks 12 and 14.
The German Record Critics' Award Association is an independent charity and consists of nearly 145 music critics, writers, musicologists and editors in Germany, Austria and Switzerland actively involved in the assessment of CDs and DVDs. Its mission is to provide producers, composers, artists and music lovers with an honest guide to new releases of true artistic significance.
Author:
World Music Central News Department
World music news from the editors at World Music Central