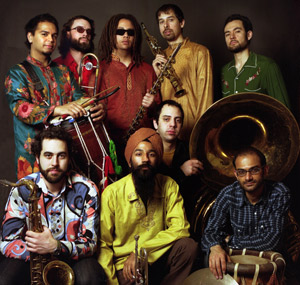 New York City's Red Baraat has taken the nation by storm. They recently released their first CD, Chaal Baby, a must buy CD for your collection. Here are a few comments from the leader of Red Baraat, Sunny Jain, and one of its anchors, sax legend Arun Luthra, regarding the formation of Red Baraat and a little background history, so you can see how the band Red Baraat, came into existence.
Sunny, can you tell me how Red Baraat joined together and became this outstanding band? as band.
'I guess it's just been my musical journey that eventually brought me to wanting to put together such a band. I fell in love with the sound of dhol when I started playing it in 2002 and I wanted to lead a band where I wasn't behind the entire band on drumset, but instead up front playing the dhol. As I started thinking of instrumentation, I also knew that I wanted a wide variety of voices and musical personalities to make up the sound of Red Baraat and no electrified instruments.
I didn't form what's now known as Red Baraat and take it public until late 2008. The musicians that make up Red Baraat (Rohin Khemani, Tomas Fujiwara, Arun Luthra, Mike Bomwell, Sonny Singh, Mike Williams, Dave Smith, John Altieri and myself) were all the first calls for the band. I pretty much told them that I was starting a project akin to Fela Kuti's Afrobeat, but on the Indian tip and that it's going to be all acoustic, just drums and horns and vocalizing (chants, yells, some singing).
I also said that while the roots of the music are Indian I wasn't looking for this to be an "Indian" band. Meaning, I wanted the band sound to develop organically with everyone imprinting their background into the music and not just approaching it as a typified genre. After all, everyone in the band is a musician living in New York City, which has a host of global sounds swirling around and all of this may find its way into Red Baraat. It wasn't until after our first gig when we experienced the positive energy from the audience, which then made us realize the potential of Red Baraat. That was probably all of ours most memorable reaction at the start of the band.'
Sunny, Red Baraat, is so "in demand" musically and mostly for live gigs, can you tell me where has Red Baraat played to date?
'We just returned from our first stint down South where we played the New Orleans Jazz Festival, Festival International de Louisiane, and the Houston International Festival. We had an amazing time and response down there and can't to go back. Beignets from Cafe du Monde on my mind!
Since our inception in October 2008, Red Baraat has performed globalFEST, Montreal Jazz Festival, Chicago World Music Festival, Lincoln Center, The Kennedy Center, Madison World Music Festival, Concert of Colors (Detroit), Droma Gypsy Festival, Pori Jazz Festival (Finland), Molde Jazz Festival (Norway) and Chicago Folks & Roots Festival, among many others.'
What has the audience response been to you outstanding live performances?
'We aim to bring the party! There's just something about the primal sound of all acoustic instruments (drums and horns), particularly the dhol, that strikes people at the core. We're also just having such a blast up there as a band and when an audiences see and feel that, they feed their energy to us, which just amps us up even more. If I end a performance with my shirt drenched in sweat, I know I gave it my all and didn't hold back at all.'
How have the CD sales gone for Red Baraat?
'Our first CD, Chaal Baby, that we released in January 2010 continues to sell well and we're about to release a live EP this June. Our 2nd studio date is slated for a January 2012 release. All in all, we do well with CD sales, both physical and digital sales.'
I also had a chance to speak to one of Red Baraat's founding members, New York City's sax legend, Arun Luthra.
Arun can you briefly tell me a little about your past and musical experiences prior to Red Baraat?
'I began my formal musical training when I was 9 years old as a classical guitarist. I was living in Brussels, Belgium at the time. I continued my musical studies on various instruments throughout my childhood, and I moved to the U.S. at the age of 12. I began playing saxophone in school band at around the age of 13.
As you know, after high school I spent two years living in Sacramento, freelancing with various jazz & other groups as well as studying with various musicians there. It's during that time that I focused on the saxophone as my primary instrument. I was also the saxophonist and arranger for Orquesta Les Moncada, for which I received a Sammy nomination for "Best Latin Musician" in 1993.
I moved to New York in 1994, and I graduated from The New School for Jazz & Contemporary Music with a degree in jazz performance (saxophone) and composition in 1997.
Since then I've freelanced with many established and emerging artists, as well as leading my own group. I've recorded numerous albums as a sideman and as a leader. You can see a more detailed bio about me on Wikipedia as well as on my own web site arunluthra.net/bio.html.
I also have a YouTube channel which you can check-out: www.youtube.com/SweetSoulSound'
Here is a peek at the "party" Red Baraat can create!
Author:
Les Moncada
Les Moncada is a Latin Jazz orchestra leader and conguero for over 40 years. He was born in Oakland, California and currently resides in Sacramento, California.
Les Moncada is a student of conga and batá master Francisco Aguabella, a friend of the late promoter Bill Graham, vibraphonist Cal Tjader, Latin Jazz band leader Pete Escovedo, conguero Mongo Santamaria and many, many more.
He has been writing for many years for World Music Central.
Les has several Facebook sites: Timbales and Congas Bongo Bata & bells; Conguero, Professional Conguero & their Instrument; Bongocero, Professional Bongocero their Instrument; Alambres Dulces, Tres, Cuatro & Laud